Pence Hosts Maskless Rally At Retirement Community, Clearly Doesn't Care About COVID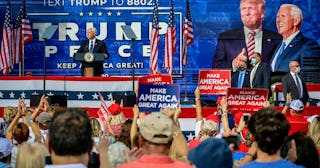 Zak BENNETT / AFP) (Photo by ZAK BENNETT/AFP via Getty Images
Pence hosts maskless rally at a retirement community among a population very susceptible to COVID-19
Honestly, at this point, I think the Trump-Pence administration is checked the eff out. If they actually wanted to win, they would stop trying to get their base sick. A week after the President of the United States contracted COVID-19, Vice President Pence held a rally at the world's largest retirement community in Florida — you know, where the elderly live — and 3000 people came out and packed together and if I squint I can maybe see a mask or two.
The Florida rally took place at the 55 and over retirement community The Villages on Saturday, October 10, 2020, and Yahoo News reports that Tim Murtaugh, communications director for the campaign, bragged that 3,000 people were in attendance. Yes, 3000 people exposed to the virus for no good reason. Trump may be woefully uneducated about the coronavirus, but he does know that the very people who showed up to hear Pence speak are the same demographic that he knows are highly susceptible to virus complications.
Josie Ensor, a journalist for The Telegraph, was at the rally and said that "about a quarter of people here are wearing masks" and that Pence's team put out socially-distanced chairs which everyone ignored and pushed together. Ensor also spoke to a secret service member who said there was no cap on attendance in place and overheard one retiree tell her friend, "there goes social distancing."
Oh, and apparently there was a medical tent nearby for anyone needing assistance from the sun and the medical techs weren't wearing masks either!
Another person in the area spotted this signage in the sky over the rally that day.
The Trump administration has been hosting mask-free rallies for weeks now, this behavior is nothing new. But now they're doing it at retirement communities? I mean, it's the lack of respect for human life for me. Even after Trump experienced first hand that when someone in their 70s gets COVID-19 they have to be airlifted to a medical facility and pumped full of experimental drugs, he's still like, Yeah, let them congregate. At this point, the Trump-Pence camp can't argue that it's a rally and people have the "freedom" to take care of themselves because this administration knows that their base is a bunch of ding-a-lings who apparently hate masks. I think Pence knows that these rallies spread COVID-19, I just think he doesn't care.
Nine people who attended a Trump rally in Minnesota last month now have COVID-19, and one was admitted to the ICU. Then there was also the Rose Garden event where Trump spread COVID-19 to all his colleagues, even though it was outside. Oh and lest we forget that Herman Cain attended the Tulsa rally and then died after contracting COVID. At what point will this administration start caring about its base?