Pennsylvania Shell Workers Told To Attend Trump Event Or Not Get Paid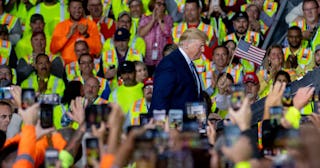 Jeff Swenson/Getty
Workers would have missed out on over $700 if they chose not to attend
The choice was made clear to employees this week ahead of Trump's visit to the Shell Pennsylvania Petrochemicals Complex: show up for his speech or you aren't getting paid expected overtime.
A memo sent to Shell employees from their union leaders the day before his visit to the construction site said in part, "Your attendance is not mandatory." However, workers were told they had to show up by 7 a.m., scan their ID cards, and wait for hours (through lunch but not receiving lunch) or they would not get paid. "No scan, no pay," a supervisor for that contractor wrote. A worker shared with the Pittsburgh Post Gazette.
While attendance for the union workers was not mandatory, those who decided not to attend would not be paid their regular overtime rates routinely built into every week. A union leader who asked not to be named estimated the workers would miss out on around $700 in pay, benefits, and a per diem if they were from out of town and several of the union leaders were not told about the arrangement until their workers were notified.
The president's speech, which his administration referred to as "an official event," but not a political one, felt similar to his 2020 run speeches, included insulting several Democratic nominee hopefuls and urging union leaders support his upcoming campaign. In typical Trump fashion, he also took credit for the $6 billion Shell complex which was first announced in 2012 under Barack Obama. "It was the Trump administration that made it possible," he said. "No one else. Without us, you would never have been able to do this."
Later in his speech, he added, "I'm going to speak to some of your union leaders to say, 'I hope you're going to support Trump.' OK? And if they don't, vote them the hell out of office because they're not doing their job."
In addition to being required to attend in order to get overtime pay, workers were also told "no yelling, shouting, protesting or anything viewed as resistance will be tolerated at the event. An underlying theme of the event is to promote good will from the unions. Your building trades leaders and jobs stewards have agreed to this. Your building trades leaders and jobs stewards have agreed to this," the newspaper reported.
Shell spokesperson Curtis Smith told Business Insider that "Tuesday was treated as a training (work) day with a guest speaker who happened to be the President. We do these several times a year with various speakers. The morning session (7-10 AM) included safety training and other work-related activities."
While Trump is obviously big into crowds, it's clear that with practices like this, sometimes those crowds don't have much of a choice but to show up.