People Are Applauding A CEO Who Just Gave His Employees A Huge Raise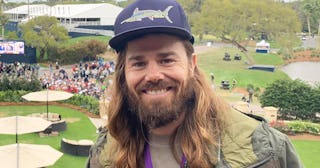 Dan Price/Twitter
More CEOs like this, please
Dan Price is the head of a Seattle-based company called Gravity Payments. It's a credit card processing company which acquired the company, ChargeItPro, based in Idaho three years ago. When the Idaho employees moved into a new building recently, Price paid them a visit and paid them for real.
The 35-year-old flew in to surprise the team with a pretty major announcement — he gave all employees earning the current minimum salary a $10,000 raise with plans on raising it to a minimum of $70,000 by 2024. Price was already known for being a pretty top notch boss. He slashed his own salary back in 2015 and increased the minimum wage for the employees in the Seattle office to $70,000, too.
Now, he's shocked everyone again with this latest move, which he posted about on Twitter.
Of course, he has everyone saying "more bosses like this, please!" Some are even calling him the "best boss in America."
Price also shared some sentiments on Instagram and it's pretty clear, this guy really understands that people need to be treated fairly at work, and that they also need to earn a living wage in order to get by.
"A lot of people think giving up a million dollar a year salary and millions in profit is an unreasonable sacrifice to pay a living wage and give small business white glove service," he wrote in his post. "Well, I am proof of one thing. It is worth it. For any business with under a million dollars of profit, let's support them. For larger business with these resources, they absolutely can do this and we need them to step up!"
He's totally right that businesses need to do more to support their employees. While there has of course been some criticism of his actions, as he pointed out, far more people are pretty inspired by it. All the applause makes perfect sense because there's a huge wage gap in this country. People at the top continue to thrive (actually, they keep getting richer and richer) while the poor get poorer and the middle class has all but disappeared.
When bosses step up in this way, not only does it help their employees to earn a living wage and live more comfortably, it also sets the example for other bosses to do the same.
This article was originally published on