People Are *Finally* Applauding Kathryn Hahn For The Queen She Is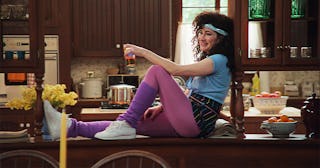 Marvel Studios
It's about damn time
Before we get into it, we have to let you know, WandaVision spoilers are ahead! So, if you haven't watched the latest episode, do so, and then report back.
Whether you're one of the millions of people who've helped WandaVision on Disney+ reach a staggering more-than 6.5 million views and are just now witnessing first-hand the genius that is Kathryn Hahn (who plays Anges, the "nosy neighbor"), or you've been a fan of Hahn and her impressive, robust filmography since Day 1, the day has finally come: Kathryn Hahn Appreciation Day.
For several hours on Friday, Hahn fans took to Twitter to applaud and celebrate her pure, incredible, until-yesterday under-appreciated talent. Seriously, she might just be the most underrated actresses, ever. And thanks to her role on WandaVision, which, as we mentioned earlier has received millions upon millions of streams, she's amassing an even larger fanbase, many of whom believe she's the best thing about the hit Marvel show — and possibly even the best actor within the entire Marvel Cinematic Universe. (She is.)
Because, as we find out in the latest episode (Episode 7, "Breaking the Fourth Wall"), Hahn's Agnes was Marvel villain Agatha Harkness all along.
And the Hahn love kept on comin'.
Since Episode 1, Hahn has crushed it as Agnes — er, Agatha. She was brilliant as a '50s and '60s housewife. She was perfection as the wacky, "innocent" sidekick to Elizabeth Olsen's Wanda. And she made jaws drop during her scene with Vision, when she was "stuck" in her car at a stop sign. The range!
And when we finally watched the big reveal? Holy shit, we were floored. We can still hear that bellowy laugh.
"I can safely say that there are so many layers that people will not see coming," Hahn told TVLine. "I am just so excited for fans – and people that are new to this world – to go on the ride. It's just a real, multi-level trip, and I'm so excited for people to go on the journey."
The appreciation tweets weren't solely about applauding Hahn for the on-screen queen she is and has always been, either. People also took to Twitter to shout-out the strong, powerful women of WandaVision, including Olsen and Teyonah Parris.
But Hahn isn't solely brilliant in WandaVision.
Remember her breakout role in Step Brothers as the horny, unhinged wife of Adam Scott's character? Or how about her hilarious, scene-stealing performance in Bad Moms?
Hahn's also crushed it as a leading lady (as she would), including in her roles in I Love Dick on Prime, Private Life on Netflix, and Mrs. Fletcher on HBO Max.
Oh, right, and who could forget about her role in How to Lose a Guy in 10 Days?
As Vulture so perfectly put it, "the Hahnaissance is upon us" — and we're so here for it.