People Are 'Faking It' To Get Vaccine Priority, So Just Yeet Me Off The Planet
by Katie Cloyd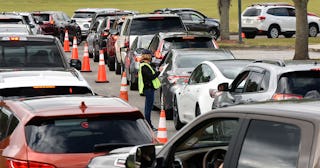 Paul Hennessy/SOPA Images/LightRocket/Getty
There are few things that science-following people like me want more these days than our doses of the COVID vaccine. My husband is in the military, and his work takes him to COVID testing sites sometimes. When his boss told him the vaccine was available to a limited number of people in his unit, he agreed to take it. He's had his first dose, and his second is on the books.
I've been joking with him that I've never been more jealous of someone for being stabbed with a needle than I am right now. I am itching for my turn. I want to contribute to the end of this pandemic however I can.
Also, TBH, I just really, really don't want to get COVID-19.
As badly as I wish it was my turn, I am unwilling to bend the truth to cut in line.
If you are trying to find a way to game the system or speed up the process and get vaccinated sooner, I urge you to rethink your plan. Don't be an asshole. There's a priority line for a reason, and it's important that we respect it.
It's an understandable temptation. Early in the vaccination process, the idea of skipping the line even took over in New York City hospitals. Rumors swirled that employees who were not intended to be in the first groups were looking for ways to cut the line. Some people actually found ways to get the COVID vaccine early. Tensions began to grow as healthcare workers started questioning the order in which they were being offered vaccines.
These are frontline healthcare workers in a crowded major city, and their overwhelming desire for protection is more than understandable.
But it isn't just doctors and nurses who desperately need the protection clamoring for an earlier vaccine appointment.
I recently saw a post in a private Facebook group about this very thing. This group is comprised primarily of women with small children. Virtually all of the members are in their twenties, thirties and forties.
People that young are not in highest priority groups unless they have a health risk factor, work with a high-risk group, or care for someone in a high-risk group. That means a lot of these women will have to wait for their COVID vaccines until all of the more vulnerable people have received their doses.
These ladies were brainstorming about ways to cut the line. Some of them were clearly kidding. I mean, I don't think anyone is really planning to line their jacket with gravel so they weigh enough to qualify under the high BMI risk category. (Side note: BMI is BS.)
But some of them were serious, asking for ways to fake documentation of pre-existing health problems, or exaggerate their children's conditions to look like caretakers. Some were even contemplating asking friends and relatives to provide them proof of employment from places where they don't actually work. Hopefully, most of them will never follow through with their ideas.
Following the correct order is our best shot at ending this pandemic and going back to some kind of normal.
Just like refusing to wear a mask prolongs the pandemic (and therefore should not be an option for anyone without a medical contraindication), jumping the line for a vaccine doesn't contribute to ending this thing.
As Massachusetts governor Charlie Baker put it, "I don't understand why a lot of the people who cut the line cut it. I just don't. It doesn't make any sense to me. And I think it's inconsistent with the message that we have all tried to send on this, which is: While we recognize and understand that everybody would like to be vaccinated today, there are some people who are at far greater risk, from a health point of view, than others, and they really ought to be prioritized."
The phased vaccine distribution plan is not random.
The CDC recommendations for who should get the COVID vaccine and when takes into account who is the most likely to become seriously ill or die. But it also accounts for who needs the vaccine to help keep the world up and running. Their two goals are "prevention of morbidity and mortality," and "preservation of societal functioning."
The phases are intended to provide protection to the most vulnerable among us first, then spread slowly to those who are less likely to become seriously ill or die from COVID. They are also meant to protect those whose absence due to illness would cause the most disruption in our society's daily existence.
Balancing those two goals takes teams of experts and it also requires our compliance. Vaccine manufacturers are working to make sure we have enough for everyone. The government is attempting to get those vaccines distributed, but challenges and delays arise at every turn. We have to give it time.
It's in everyone's best interest to let the people who need it most get their COVID vaccines first.
Healthcare workers, people in long-term care facilities, people with high-risk medical conditions and those for care for them, and people over 65 need to have first priority. Other essential workers should follow closely behind. We will all get a turn eventually. Until we get all of the first priority groups protected, the rest of us need to be patient.
If we all commit to waiting our turn for the vaccine, we get a new weapon against this pandemic. Right now, staying home as much as we can, maintaining our distance in public and wearing our masks are the only ways to protect people who are at high risk for serious complications. If we can get them COVID vaccines as quickly as possible, they will have another layer of protection. When we choose to protect the most vulnerable people first, rates of serious infection and death will start to decrease. It will save lives. The rest of us will get a shot when it's available, and we will be protected, too. That's what we all want.
This article was originally published on