Twitter's Stories Of Celebs Behaving Nicely Will Restore Your Faith In Humanity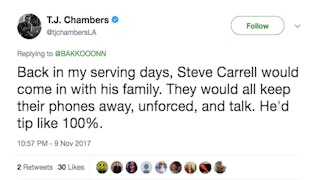 Image via Twitter/TJ Chambers
These celebrity encounters are something we could all use right now
It seems every single day another story comes out involving a public figure and allegations of sexual abuse. The stories are heartbreaking, infuriating, and can genuinely make you feel like there are no decent people left in this world. One Twitter user decided we could all use some positive news and asked others to share some "nice allegations" for a change.
Twitter user Bakoon posted a call to action of sorts on Thursday, asking, "if anyone has any nice allegations against a celebrity that would be great too." It seems in the days of Harvey Weinstein, Kevin Spacey, Roy Moore, Louis C.K., Ed Westwick, and Jeremy Piven, everyone could use a few lighthearted stories to restore some faith in humanity.
The gesture is not meant to take anything away from all the brave individuals coming forward, but to remind us not everyone a shitty human being.
Hundreds joined in to recall moments when they had a run-in with a celebrity or public figure and were better for it.
This story about Carrie Fisher will have everyone crying happy tears:
https://twitter.com/jetpack/status/928806017210630144
Who knew Danny DeVito and Rhea Perlman took in their Matilda costar Mara Wilson when her mother battling cancer?
And say what you will about Coldplay, Chris Martin is all class:
https://twitter.com/jetpack/status/928992107301281793
Look, celebrities are just people. They shouldn't be held to a higher standard than the rest of us, but they are in the public eye and with that comes a certain amount of responsibility. At the very least, if they act like a dick, others will likely take notice. But if they use their celebrity to do good, that shouldn't go unnoticed either.
There were some lighthearted moments as well. Because, if you are going to run into a celebrity, you may as well actual run into a celebrity:
https://twitter.com/jetpack/status/928991061841674240
Whether they should be or not, many of these public figures are role models, especially for kids. It's nice to see not all of them have abused their position of power. Even a small act of kindness can go a long way.
And the pièce de résistance:
https://twitter.com/jetpack/status/928927054845837318
Chances are even more victim's stories will surface in the coming weeks and months. Those many held on a pedestal will be rightly knocked off while their accusers bravely come forward and share with the world something they've been secretly dealing with for years. Let's hope in the midst of all of this heartbreak, other stories of good will emerge.
At this point, we could all use some feel-good stories in our lives.
This article was originally published on