by Scary Mommy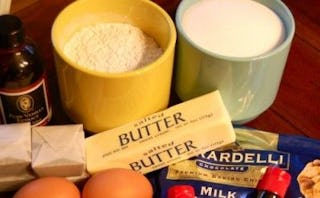 For some reason, I am incapable of making decent brownies from a box. They are either horribly overcooked or completely raw. Every single time. This recipe for peppermint brownies, however, I never mess it up. It started with the Baker's One Bowl Brownie and I've perfected it over the years. You should try it. It's the perfect mix of sweet, salty and minty and kind of amazing. Ready?
Ingredients
4 squares Baker's Unsweetened Chocolate
3/4 cup butter or margarine 2 cups sugar 3 eggs 1 tsp. vanilla 1 cup flour 1 cup milk chocolate chips 1 teaspoon salt 6 Large Peppermint Patties
Microwave chocolate and butter in large microwaveable bowl on medium for 5 minutes, stirring every minute or two. Remove and stir in sugar, salt, eggs and vanilla. Add flour and chocolate chips and mix well. Pour half into greased pan. Layer Peppermint Patties and cover with the rest of the batter.
Bake at 350º for 30 min.
Now, stop there and dust with powdered sugar if you aren't a huge mint fan. If you are, then go forth and frost them with the following.
Mint Frosting
1/2 stick. butter, softened
1/2 cup cream cheese 3 c. powdered sugar 1/2 tsp. vanilla 1/2 tsp mint 1 tsp green food coloring 3 to 4 tbsp. milk
Mix butter, cream cheese and sugar. Stir in vanilla, mint, food coloring and milk; beat until smooth, adding more milk if too dry and more sugar if too wet. Top with candy canes, crushed Peppermint Patties or whatever other green and red crap you may have.
So minty, so yummy. If you're thinking Christmas goodies, some Candy Cane Vodka would be the perfect partner.
This article was originally published on