Pepsi's New Ad Is An Epic Fail, And The Internet Isn't Having It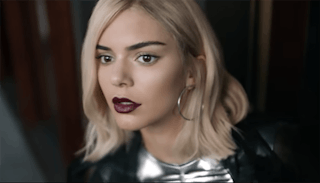 Image via Pepsi commercial screengrab/ YouTube
The internet responds to Pepsi's epic ad fail
Pepsi used Kendall Jenner and an iconic protest image to sell soda this week, and the internet is not having it.
In the commercial we see Jenner, in a blonde wig, in the midst of a fashion shoot. Around her, there is a protest brewing in the streets. It's just a bunch of people marching around with peace signs — in Pepsi's signature red, white, and blue muted colors. There is also a woman wearing a hijab, apparently distressed at some images she's taken. We get the impression that she's been photographing the protest, but hasn't really gotten the shot she's been waiting for… yet.
Enter Kendall. She decides to strip off the wig and join the protest. It's weird as hell. She's winking at cute guys and galavanting through the crowd. Finally, she grabs a Pepsi, and walks up to a line of cops and hands him one, as the photographer finally gets the shot she wants. The cop smiles
Everything about this ad is so tone deaf it's actually embarrassing to watch.
The co-opting of various protest scenes, dripping with Pepsi's signature color schemes:
The confusing juxtaposition of protest and hipsters sipping soda and laughing from the sidelines:
But most of all, using the composition of one of the most iconic protest photographs to come out of the Black Lives Matter movement as a hook to sell Pepsi? This is the straw that broke the internet's back.
Last year, after the senseless murders of Alton Sterling and Philando Castile, Black Lives Matter protests erupted throughout the country. It was during one of those protests that this iconic shot was taken:
The woman in this picture is Ieshia Evans. Last year she travelled to Baton Rouge to protest for her life, and the life of her son."This was the first time she travelled to protest and she did so because she has a son she wants a better future for," Natasha Haynes, lifelong friend to Evans wrote in a message to Scary Mommy last year. "She wanted to be able to look at her son in the eyes and say that she fought for a better future for him."
The image quickly went viral because of the power it showed. This is what a determined mother looks like. This is what someone standing for something looks like.
Enter Pepsi and Kendall Jenner, and oh my fucking god do you need someone to run ideas by, Pepsi? Because there are thousands of people who would have said, "Woah. Hold up. This is ridiculous. What are you doing? Stop. Stop this immediately and go back to the drawing board."
Pepsi responded to the backlash with this statement to Teen Vogue:
"The creative showcases a moment of unity, and a point where multiple storylines converge in the final advert. It depicts various groups of people embracing a spontaneous moment, and showcasing Pepsi's brand rallying cry to 'Live For Now,' in an exploration of what that truly means to live life unbounded, unfiltered and uninhibited."
"This is a global ad that reflects people from different walks of life coming together in a spirit of harmony, and we think that's an important message to convey," they also responded in a statement to People.
And all of a sudden this is every internet fight with every gaslighting relative you've ever had. When a giant group of people says, "Hey, this is offensive," maybe listen? Instead of justifying why you still think it was a great idea.
All the "NOs," Pepsi. All of them.
UPDATE: Pepsi has pulled the ad. A new statement reads, "Pepsi was trying to project a global message of unity, peace and understanding. Clearly, we missed the mark and apologize. We did not intend to make light of any serious issue. We are pulling the content and halting any further rollout."
This article was originally published on