The Perfect Weeknight Dinner: Leek, Mushroom and Goat Cheese Quiche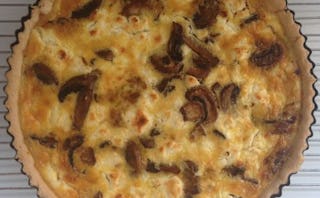 I grew up with quiches on the table somewhat regularly, but they have fallen out of fashion…probably because they were so of-the-moment during the '80s, and anything that is über-popular tends to have to fall out of favor. That and there is the perception—not totally erroneous—that quiches have a lot of fat going on, so…but quiches are amazing, and this is a lightened up version with a lot of vegetables, so (are you with me?) let's bring back the quiche! Serve it up with a salad.
Leek, Mushroom and Goat Cheese Quiche
© Katie Workman
Serves 8
1 refrigerated pie crust
2 tablespoons olive oil
2 leeks, thinly sliced and washed
1 pound mushrooms, thinly sliced (any kids, including button, will be fine)
4 large eggs
½ cup whole milk
½ cup heavy cream
Coarse or kosher salt and freshly ground pepper to taste
3 ounces fresh goat cheese, crumbled
1. Preheat the oven to 400°F. Fit the refrigerated pie crust into a deep 9-inch pie pan.
2. Heat a large skillet over medium heat and add 1 tablespoon of the olive oil. Add the leeks and mushrooms and sauté until they are softened and golden brown, about 12 minutes. Remove to a bowl.
3. In a medium sized bowl, beat the eggs with the milk and cream, and season with salt and pepper.
4. Distribute the leek and mushroom mixture evenly over the bottom of the pie crust. Dot the goat cheese over the vegetables and pour the cream mixture over the filling.
5. Bake for about 45 to 50 minutes until the center is just barely jiggly and the top is golden brown and puffed. A knife inserted into the center should come out mostly clean. Cool the quiche in the pan on a wire rack and serve slightly warm or at room temperature.
This article was originally published on