65+ Perfectionism Quotes To Help You Break Free From Impossible Standards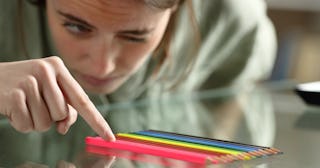 AntonioGuillem/Getty Images
Raise your hand if you're a self-professed perfectionist (*raises hand*). Now raise your other hand if you readily admit this trait may very well be your Achilles heel (*waves both hands wildly in the air*). Sure, being a perfectionist has its moments. You tend to give 150 percent to everything you do. You believe in trying to meet the full potential of tasks. However, being a perfectionist can keep you from truly enjoying life. You tend to have tunnel-vision when it comes to getting every little thing just right, which means you occasionally miss the beauty all around you, as imperfect as it may be. You forget to have fun because you're too busy trying to make everything perfect. This is why you need these perfectionism quotes, friend — to help you overcome your perfectionist tendencies so you can move forward even in moments that don't meet your high (read: sometimes impossible) standards.
According to Merriam Webster, the definition of perfection is "a disposition to regard anything short of perfection as unacceptable." And when you consider that definition, it's not altogether surprising that perfectionism can manifest in toxic ways. Per Medical News Today, chasing perfection may have deleterious effects on your mental health and well-being.
If all of this sounds oh-so-familiar to you, it sounds like you need a bit of a perfectionist reality check, too. Keep reading for words of wisdom that should help break the cycle of perfectionism.
Best Perfectionism Quotes
"Have no fear of perfection… you'll never reach it." — Salvador Dali
"I think perfectionism is based on the obsessive belief that if you run carefully enough, hitting each stepping-stone just right, you won't have to die. The truth is that you will die anyway and that a lot of people who aren't even looking at their feet are going to do a whole lot better than you, and have a lot more fun while they're doing it." — Anne Lamott, Bird by Bird: Some Instructions on Writing and Life
"Your perfection has room for improvement." — Ty Warner
"Learning to give up on perfection may be just about the most romantic move any of us could make." — Alain de Botton
"Understanding the difference between healthy striving and perfectionism is critical to laying down the shield and picking up your life. Research shows that perfectionism hampers success. In fact, it's often the path to depression, anxiety, addiction, and life paralysis." — Brené Brown
"But I am learning that perfection isn't what matters. In fact, it's the very thing that can destroy you if you let it." — Emily Giffin, Something Borrowed
"There is no perfection, only beautiful versions of brokenness." — Shannon L. Alder
"When things are perfect, that's when you need to worry most." — Drew Barrymore
"At its root, perfectionism isn't really about a deep love of being meticulous. It's about fear. Fear of making a mistake. Fear of disappointing others. Fear of failure. Fear of success." — Michael Law
"Nobody has a perfect life. Everybody has something that he wishes was not the way it is." — Stan Lee
"Too many people spend too much time trying to perfect something before they actually do it. Instead of waiting for perfection, run with what you got, and fix it along the way." — Paul Arden
"Good enough is good enough. Perfect will make you a big fat mess every time." — Rebecca Wells, The Crowning Glory of Calla Lily Ponder
"The desire of perfection often leads to the awakening of the Procrasdemon. Allowing yourself to make mistakes is the single most effective way to get rid of it." — Neeraj Agnihotri
"People call me a perfectionist, but I'm not. I'm a rightist. I do something until it's right, and then I move on to the next thing." — James Cameron
"To be courageous, we must be willing to surrender our perfectionism, if only for a moment. If my self-worth is attached to being flawless, why would I ever try to learn anything new? After all, learning requires mistakes." — Vironika Tugaleva, The Love Mindset
"Find the perfection in every moment instead of trying to make every moment perfect." — Donnalynn Civello
"Perfection of character is this: to live each day as if it were your last, without frenzy, without apathy, without pretense." — Marcus Aurelius
"An artist obsessed with perfection is bound to dim the light of his art." — Michael Bassey Johnson
"People often miss out on their own human genius because they're trying to be more perfect than the gods." — Curtis Tyrone Jones
"Proliferation is greater than perfection." — Richie Norton
"Only a fool pursues perfection; the wise pursue self-correction." — Abhijit Naskar
"Perfection is not attainable, but if we chase perfection we can catch excellence." — Vince Lombardi
"People call these things imperfections, but they're not. That's the good stuff. And then we get to choose who we let into our weird little worlds." — Good Will Hunting
"Even when we strive for perfection, life is nothing more than an attempt to achieve it through a series of greater or smaller imperfections." — Peter Prange
"Practice does not make perfect. Imperfect makes us practice." — Mokokoma Mokhonoana
"I don't have to be perfect. All I have to do is show up and enjoy the messy, imperfect, and beautiful journey of my life." — Kerry Washington
"Perfectionism doesn't make you feel perfect; it makes you feel inadequate." — Maria Shriver
"Let go of the perfectionism. Surrender to the flawed, human messiness and do the thing that your heart and soul desperately wants to do." — Katherine Mackenzie Smith
"Done is better than perfect." — Sheryl Sandberg
"Perfectionism is a dream killer because it's just fear disguised as trying to do your best." — Mastin Kipp
"Have the courage to be imperfect." — Alfred Adler
"Where perfectionism is driving, your shame is riding shotgun." — Brené Brown
"And now that you don't have to be perfect, you can be good." — John Steinbeck
"Perfectionism is not a quest for the best. It is a pursuit of the worst in ourselves, the part that tells us that nothing we do will ever be good enough." — Julia Cameron
"Perfectionism sucks the air out of your uniqueness and leaves you empty, away from who you could become." — Darryl Stewart Wellness
"If one wants to be active, one mustn't be afraid to do something wrong sometimes, not afraid to lapse into some mistakes. To be good — many people think that they'll achieve it by doing no harm — and that's a lie… That leads to stagnation, to mediocrity. Just slap something on it when you see a blank canvas staring at you with a sort of imbecility." — Vincent Van Gogh
"We're never perfect. We're always measured against a yardstick we'll never see." — Molly M. Cantrell-Kraig
"Do not let perfection and order become your masters! These are the two most dangerous traps set for the spiritual Murid. True spirituality proceeds from an honoring and awareness of chaos and imperfection. Who would dare untangle a rainforest?" — Laurence Galian
"Deviation from perfection is the beauty of human experience." — Drew Gerald
"We don't need to be perfect to do good deeds in the world, but we need to be sincere in our efforts." — Gudjon Bergmann
"The inescapable contrariety between 'being a perfectionist' and 'being a procrastinator' is never actually perceived by someone who procrastinates." — Mrityunjay Dixit
"For a better life, redefine your definitions of perfect." — Akiroq Brost
"Striving for perfection is a good and worthwhile effort. Expecting to actually attain perfection can kill you." — Laurence Bergreen
"We're going to have to bust down the door on the myth of perfectionism. We're going to call it what it really is: fear." — Karen Rinaldi
"When we relate to ourselves with loving kindness, perfectionism naturally drops away." — Sharon Salzberg
"The magic elixir to perfectionism is to practice gratitude." — Scott Mautz
"Don't let perfectionism become an excuse for never getting started." — Marilu Henner
"If perfection had a slogan, I think it would be something like: 'Perfection, the preferred hiding place of people everywhere.'" — Kristin Schell
"Done is better than perfect if perfect ain't done." — Eric Thomas
"Worst thing about being a perfectionist: Everything you do might look amazing in someone else's eyes but, in your heart, never truly satisfied." — Emmie Lee Dean
"There is no way to genuinely, powerfully, truly love yourself while crafting a mask of perfection." — Vironika Tugaleva
"Like the bronze statue of the Angel of the Waters, those who pursue perfection find themselves paralyzed by the possibility of flaw, fault, or failure." — Jamie Le Fay
"What if you wake up someday, and you're 65… and you were just so strung out on perfectionism and people-pleasing that you forgot to have a big juicy creative life." — Anne Lamott
"Perfect is the enemy of done." — Catherine Carrigan
"I do think imperfection is underrated." — Helena Bonham Carter
"The most successful people are not the most perfect, but the imperfect who dare to believe that they can despite the damning verdict." — Bangambiki Habyarimana
"The essence of being human is that one does not seek perfection." — George Orwell
"The seed of your next artwork lies embedded in the imperfections of your current piece." — David Bayles
"In order to go on living, one must try to escape the death involved in perfectionism." — Hannah Arendt
"I have to say that I've always believed perfectionism is more of a disease than a quality. I do try to go with the flow, but I can't let go." — Rowan Atkinson
"Perfectionism attaches to what is valued in the culture." — Gloria Steinem
"I've learned how my own perfectionism can cripple me." — Jennifer Nettles
"It's not about perfection. What's a perfect painting? What's interesting about a perfect painting?" — Peter Doig
"Nobody on this earth is perfect. Everybody has their flaws. Everybody has their dark secrets and vices." — Juice Wrld
"My teacher once told me: No one is perfect, and it is why pencils have erasers." — Mahesh Bhatt
"I am glad that I am not perfect — I would be bored to death!" — Louise Fitzhugh, Harriet the Spy
This article was originally published on