Period Tracking Apps Are Sharing Info About Your Sex Life With Facebook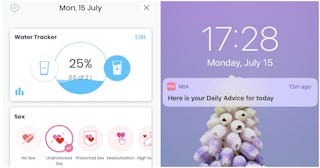 App Store
Millions of women who use period tracking apps may have had info about their health, birth control use, and more shared with Facebook
Period tracking apps are a great for women to track a lot of information related to their cycles, like when they're ovulating, when to expect their period, when to take birth control pills, and more. But millions of women who used popular apps like MIA Fem and Maya are now learning that the companies behind those apps likely shared tons of sensitive medical information with Facebook for marketing purposes.
UK-based advocacy group Privacy International found that those two apps, which boast nearly 10 million combined users, shared information about women's use of contraception, the timing of their periods, symptoms like swelling and cramps, when and how they were having sex, and more, directly with Facebook. Facebook collects that kind of information from third-party apps to better tailor targeted advertising for its users, among other things. It's pretty well known that Facebook does that, but with this kind of information, much of which is deeply private and related to users' health, you'd think there would be better privacy rules in place.
"When Maya asks you to enter how you feel and offers suggestions of symptoms you might have — suggestions like blood pressure, swelling or acne — one would hope this data would be treated with extra care," the Privacy International report reads. "But no, that information is shared with Facebook."
In maybe the grossest invasion of privacy happening here, some of these period tracking apps have sections for users to input when they last had sex, whether they used contraception, and whatever notes they have about the experience. All of that was shared with Facebook.
While this may seem like deeply personal information that advertisers have no business knowing, they're actually super interested in tracking shoppers' moods. Studies show that moods are a huge indicator of when someone might buy things, especially when it comes to making impulse purchases. And women who are trying to become pregnant can be targeted for all kinds of pregnancy- and baby-related products that wouldn't appeal to them otherwise. This is actually very useful data for advertisers to have, despite it being absolutely gross that it's being shared between giant corporations with no regard for its sensitive nature.
The privacy policies that users have to agree to in order to use apps like these period tracking apps are meant to protect their creators' ability to sell and share information like this. But Privacy International found that these apps were already sharing information before users had even agreed to a privacy policy, and privacy experts say it's unreasonable to expect the average person to read and understand all of those policies, anyway.
"This is the kind of practice that highlights how consent isn't a sufficient guardrail against privacy violations," Georgetown Law's Intellectual Property Rights tech clinic staff attorney Lindsey Barrett told Buzzfeed. "No one reads privacy policies because they encounter too many of them for that to be reasonable, and even if they did, the policies are poorly written or won't tell them what they need to know."
This article was originally published on