I Developed Peripartum Cardiomyopathy After Childbirth, And This Is What People Should Know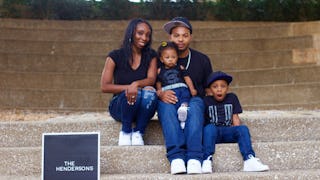 Brianna Harris-Henderson
On November 8, 2016, my husband and I welcomed our second child, a beautiful baby girl, into the world on her daddy's birthday. We were all so excited.
But a day after her birth, I unknowingly experienced over two liters of blood loss due to hemorrhaging. I was rushed into surgery where I needed four blood transfusions. My blood pressure was only 60/40, and it took almost five hours to stop the bleeding.
My daughter and I spent five more days in the hospital since my blood pressure was now elevated and they had a hard time getting it down after surgery. Finally, on November 13, we were released from the hospital. I was able to pump milk while I was in the hospital those five days, so I immediately begin storing milk in our freezer.
Three weeks after my daughter's birth, I started to experience a light, constant cough and my heart felt like it was racing. I would ask my husband to listen to it to get his opinion, and he thought it sounded fast, but we both know I just went through having a baby.
On Christmas night 2016, I had a hard time sleeping, with an extreme cough. I was spitting up pink phlegm and gasping for air whenever laying down. My husband slept in our son's room because I was coughing so much through the night.
The next day I called my dad at 6 a.m. I told him I couldn't breathe laying down, and I felt like I was suffocating. He immediately said it sounded serious (as in pneumonia or bronchitis) and that I should get to the hospital. My husband had to work that morning so my parents-in-law watched our baby girl while our son stayed at his grandmother's house.
My dad took me to the ER with the little bit of energy I had in me. Arriving at the hospital, my vitals showed outrageous numbers for my heart and my blood pressure was higher than normal. I was sent for a CT scan and asked to walk with a nurse to see how long it would take to run out of breath. It took only five minutes.
Once test results came back, the nurse explained that they had to keep me overnight for testing and to get fluid off my lungs and heart. I was given medication to make me urinate any extra fluid from the body.
Additional tests were ordered after doctors noticed in my file that three years earlier my oldest sister had died of a cardiac arrest from heart failure with an unknown cause just three months after having her second baby. Later that day, a cardiologist explained that my heart ejection fraction was functioning at 15 to 20%, which meant that I was in full blown heart failure — the same illness caused my sister's death.
I was officially diagnosed with peripartum cardiomyopathy, a rare type of heart failure that occurs during pregnancy or immediately after. The condition weakens the heart muscle so that it becomes enlarged and can't pump blood properly to the rest of the body.
My doctor gave me a 50/50 chance to live, and immediately ordered me a life vest to wear. In case of a cardiac arrest, the life vest would shock my heart back to life. He also set up cardiac rehab and told me to attend a heart failure clinic every few weeks.
The hospital covered my story in their health magazine, and NBC 5 News shared the story as well. Dr. Michael Rothkopf, a cardiologist at the hospital where I was treated, told NBC 5 News that they don't know what causes peripartum cardiomyopathy, but people who are African-American may have a higher risk of developing the condition.
I'm so happy and blessed to still be here with my babies and husband. Prayers and medications worked well for me. My ejection fraction has increased to 50% today, and I was able to remove life vest in July 2017.
I will continue to spread awareness peripartum cardiomyopathy for the sake of my sister, other women who have lost their lives. Visit www.savethemommies.com and www.PPCMfund.com to learn more about peripartum cardiomyopathy — the silent killer in young, healthy, pregnant women.
This article was originally published on