Be Extra AF This Holiday Season With Gift Wrap Covered In Your Own Face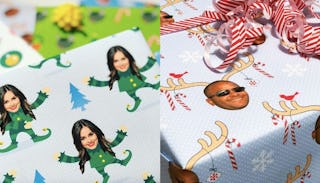 Image via Gift Wrap My Face
Gift wrap with your face all over it is the perfect way to show loved ones you care
Ho ho ho, Merry Thanksmas. Halloween has ended, and because the world is a real, live, trash fire, we're all looking for that jolly holiday feeling long before the actual holidays are here. That's why we're already planning on purchasing this extremely personalized gift wrap covered in our own faces.
Because nothing says "Happy Holidays, enjoy this gift" like your own holiday-crazed stress face all over the wrapping paper on your loved one's present.
There are so many possibilities here, y'all. And thanks to a very creative company, they can all be brought to life.
You can pick yourself making a happy face. Or an angry one. Whatever floats your boat, honestly — you can even feature your pets. As Vanessa from Gift Wrap My Face tells Scary Mommy, "We can modify anything."
Challenge accepted.
We honestly had no idea how much we needed this in our lives. This company gets us. For under $20, ($16.95 for a full roll, $9.95 for a half) you can personalize the hell out of every present you purchase.
What could possibly be happier for the holidays than your face on an elf or snowman's body dozens of times? Nothing, that's what.
You can even cover your cheerful offerings in a beloved pet's mug. I have a very photogenic black lab all ready to make merry on my packages.
They also have your back if you give Thanksgiving presents, which should be an actual thing. Presents are literally always welcome, especially while in a turkey coma.
Hanukkah celebrators, December 2nd is fast-approaching and your smiling face with a bunch of menorahs and dreidels is absolutely needed.
Or maybe a little congratulations are in order.
You can even outfit your holiday table in your entire family's faces. Sign us up, this is literally delightful.
And if wrapping all of your holiday presents in your face isn't extra enough for you, send everyone you know holiday cards that will outdo all the others.
Gift Wrap My Face promises 2-4 business day turnaround, but it's probably smart to get those orders in quick before everyone catches on to this completely festive and fun idea. Happy wrapping!
This article was originally published on