'Personhood' Bills May Restrict Access To IVF Treatments For Prospective Parents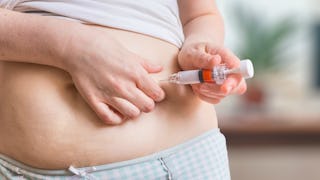 vchal / Shutterstock
Casey Berna had always dreamed of having a large family. When she and her husband started the process, she had no idea the challenges they would face in trying to meet that goal. Following her daughter's birth through intrauterine insemination (IUI), Berna spent the next seven years trying to give her some siblings.
Thirty-four embryos, five miscarriages, three rounds of in vitro fertilization (IVF), two IUIs, one frozen embryo transfer (FET), and zero viable pregnancies later, Berna closed the chapter of her search to build her family with her own genetics.
Berna and her husband are part of the 1 in 8 couples who will face infertility in their lifetimes. Like millions of other families, Berna was able to try to grow her family thanks to advances made by reproductive medicine. While assisted reproductive technology has helped those with infertility achieve their reproductive goals, these advancements are currently under threat by state and federal "personhood" bills.
Since 2008, at least 10 bills have been introduced at the state level that look to define human life starting at the moment of conception. Staunch opposition from the infertility community, who fear defining personhood jeopardizes reproductive medicine, has defeated each and every bill at the state level.
Now, with two personhood bills introduced this year at the federal level, infertility advocates are gearing up once again to fight for their right to build a family.
***
In 2009, Nadya Suleman, better known as "Octomom," gave birth to eight children through IVF after 12 embryos were transferred into her uterus. This practice, an extreme departure from the typical standard of care, resulted in her doctor losing his medical license and the American Society for Reproductive Medicine tightening its guidelines for embryo transfers.
It also caught the attention of lawmakers in Georgia, some 2,000 miles away from Suleman's home state of California.
That March, two months after Suleman gave birth, the "Ethical Treatment of Human Embryos Act" was introduced in Georgia's legislature. The bill, which set to limit the number of embryos Georgia physicians could implant in a given cycle, also included language set to define personhood. This bill was not the first attempt to establish personhood. In 2008, Colorado included a ballot initiative which would give an embryo rights from the moment of conception. The Georgia bill, however, was one of the first to add personhood language into a different piece of legislation.
"In the language of the bill was a very clear sentence that basically said that inherently the embryo was a human life in and of itself and had its own rights beyond that of the parents," Andrew Toledo, MD, a reproductive endocrinologist in Atlanta, Georgia, told The Mighty. "It was the devil in the details, but it was there. It was really their attempt to sneak personhood into a bill," he said.
Personhood bills are largely thought of as a way of restricting abortions and challenging the Supreme Court's ruling in Roe v. Wade. Experts, however, warn that extending rights to embryos will limit those practicing and those seeking infertility treatment.
Advocating for patients and physicians in Oklahoma, targeted as the state most likely to pass a personhood bill, is Eli Reshef, MD, a reproductive endocrinologist in Oklahoma City.
"Over the years of fighting personhood legislation, I realized that many of the supporters of personhood legislation are poorly informed about the unintended consequences of such legislation," Reshef said. "Giving embryos the same rights as adults — the cornerstone of such legislation and a clear effort to outlaw abortions — creates various situations that place the practice of IVF at risk."
Reshef said only 30% of embryos will be born as babies; the rest will either miscarry or fail to implant. Without the ability to consent to assisted reproductive technology, there are dozens of scenarios where embryos that have yet to be implanted could be deemed at risk.
"It's going to prevent us from doing IVF because no lab tech in their right mind will be willing to stand the risk of being accused of murder if they drop a dish with embryos in the lab, inadvertently," he added.
Beyond shutting down IVF practices, personhood bills would change how reproductive endocrinologists practice medicine, said Toledo, who's part of the coalition of physicians who fought Georgia's personhood bill, adding: "We would freeze a lot more eggs unfertilized, and we would only fertilize the eggs we hoped we were going to transfer. It would lower pregnancy rates, because you have less options now, and it would create more cost for patients because they would have to go through more cycles to be successful."
Should a personhood bill become law, advances in IVF would be set back decades, according to Toledo, and physicians would be required to rely on techniques used in the early '80s when IVF first came to the U.S. Instead of joining sperm and egg in the lab, more physicians would revert to gamete intrafallopian transfer (GIFT) — a surgical procedure where eggs are removed from a woman's ovary and placed, along with sperm, in the fallopian tubes, thus increasing the rate of ectopic and tubal pregnancies.
Even ectopic pregnancies — nonviable pregnancies that occur outside of the uterus and threaten the life of the mother — raise questions from reproductive physicians. "What about ectopic pregnancies that are viable and place the pregnant person's health at risk, yet surgical or medical intervention may be construed as killing a person?" Reshef asked.
These questions and more remain unanswered by current personhood bills, many of which are only a few sentences long and lack explicit protections for those seeking IVF.
It's unlikely a personhood bill could include satisfactory language protecting those seeking or practicing IVF from prosecution, said Barbara Collura, the president and CEO of Resolve: The National Infertility Association. "I have never seen any carved out protection for IVF in a personhood legislation that actually worked," she added, "but I will tell you that at the state level when we've seen legislators try and amend or draft it, it is extremely difficult."
In 2012, Virginia, where Collura lives, tried to pass HB1, its own version of a personhood bill. "The backstory on that was that a chair on a key committee had done IVF, so there was an attempt to carve out IVF," Collura told The Mighty. But despite an attempt to add protections, "the carve-out was completely inadequate."
Despite testimonies from those living with infertility and members of Resolve, HB1 passed committee. "It's callous and unfair to take legislation aimed at those who don't want children to devastatingly affect pro-family infertility patients' rights to treat their disease," Whitney Anderson, who testified against Virginia's bill, told The Mighty. "I didn't choose to be infertile. There is safe and effective treatment available and I should be allowed access to the best standard of care. I was lucky enough to become a mother using IVF, and my heart hurts thinking about how that opportunity could be taken away."
After making it out of committee, HB1 died in a special vote on Virginia's Senate floor.
***
There are currently two personhood bills pending at the federal level — H.R.586 "Sanctity of Human Life Act" sponsored by Rep. Jody Hice (R-GA) and H.R.681 "Life at Conception Act," sponsored by Rep. Alexander Mooney (R-WV). While the bills have made little progress, their existence and support — 29 co-sponsors for H.R.586 and 62 co-sponsors for H.R.681 — have infertility advocates concerned.
"Going through infertility for me was like being knocked down many times a day over and over, year after year and having to get back up each time knowing you're about to get another punch to the gut," Anderson said. "I can't imagine being in the middle of an IVF cycle with all of my hopes and dreams wrapped up in that and then having to curtail the cycle, not to mention losing $10,000 to $15,000 that most people have to pay 100% out-of-pocket for. I would have been devastated."
Neither bill mentions any protections for those seeking or providing infertility treatments. The only reference to in vitro fertilization comes in Rep Hice's bill, H.R.586, which states that human life includes any method of fertilization including cloning, giving embryos created in the lab the same rights as their parents.
"Infertility was one of the most challenging, physical and emotional events that my husband and I ever had to endure," Berna said. "When it really comes down to it, we're all just fighting for the freedom to make medical decisions with our doctors and not have politicians involved making stressful situations more stressful."
This article was originally published on