You Can Plaster Your Pet's Face On Your Luggage Now
by Julie Scagell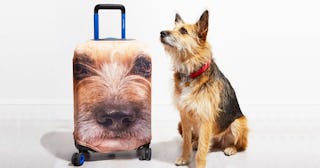 Firebox
With your pet's face on your luggage, you'll never lose it again
If you're a crazy pet owner like me, you love showing everyone (and I mean everyone) you meet photos of your animals because our pets are amazing and we don't deserve them. Now, you can do them one better by getting their face printed on your suitcase so even strangers can partake in the glory that is your fur baby.
That's right — there's a company that will reprint your pet's face onto a luggage cover so you'll be the talk of the town everywhere you travel. The Pet Head Case from Firebox comes in three sizes and is made from durable spandex, so slipping your pet's face onto your suitcase is as easy as pulling on your favorite yoga pants. And they both feel so very right.
According to their site, simply "send in a photo of your best furry friend, pick the size you want, and voilà — you have a stretchy case that's uniquely yours." No more staring at 100 black suitcases in baggage claim wondering which one is full of your belongings. No sir, you will know immediately. Also, who doesn't want to bring their cat with them on holiday so they can judge our life choices just like at home?
The case covers come in three sizes so they'll fit a carry-on all the way up to a large suitcase and range in price accordingly, from around $26 to $38. But can you really put a price on being able to put your fur baby's life-size form on your baggage, especially since you'll be missing them so while you're away?
Of course, we've all seen the adorable socks that you can get customized with your pet's faces on them, and if your tootsies need a little extra warmth you can get the slipper variety as well. But the Pet Head Case not only allows you to bring your furry friend with you while you travel (in spirit anyway), you get to be a little extra while you do it.
If you'd like your pet's face on all of the surfaces but don't fancy yourself a traveler, Firebox sells a plethora of products so you can honor them in other hilarious ways. There's the personalized pet cushion (which they call a "mushion" because of course you're going to squeeze the shit out of it), so you can cozy up with your pet and your pet's face at the same time. They also have a personalized pet doormat so anyone entering your home has a pre-warning for the amount of cuteness they're about to experience when they step inside.
All in all, it's a great time to be alive if you're a pet owner, and our pets deserve to have their mugs splashed on all of the surfaces. Plus, if we can't bring them with us when we travel, these suitcase covers are definitely the next best thing.