Pet Store Refuses To Sell Bunnies For Easter Because People Are Assholes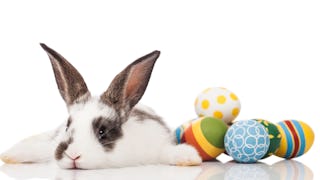 Image via Getty/ momcilog
Bunnies are the third most abandoned pet, after dogs and cats
Easter is coming up and for little ones this typically means chocolate, egg hunts, and baskets full of marshmallow-y, malted milk ball-stuffed-Peep-flavored-sugary-bunny-shaped-cuisine.
And for parents who are a little extra, sometimes it can even mean a new member of the family. Yep, we're talking about a pet rabbit.
Of course every parent wants to be the hero of the holidays. But the statistics aren't in your favor when it comes to buying a literal "Easter bunny." Unfortunately, 80 percent of bunnies purchased as Easter presents are abandoned. Rabbits are the third most popular pet in America, after cats and dogs, according to the Humane Society of the United States—and the third most abandoned, mostly due to their popularity around this time of year.
One pet store decided to do something about the problem and refuses to sell any bunnies to patrons until after Easter. "We will not have any bunnies available until after Easter," Reddit user Poochyena posted of their sign. "Bunnies sold as Easter gifts to children are the most abandoned animal a most or two after they are brought home and we do not wish to support this."
And while bunnies are obviously fluffy and adorable and we mostly want to squeeze their faces off, according to National Geographic, they aren't super easy to care for. "Vets and insurance companies consider them exotic pets, so medical care can be more expensive than for a cat or dog," they reported. "Rabbits need a lot of exercise and shouldn't simply be pent up in a cage. This means they need to learn to use a litterbox (yes, rabbits can be potty trained), which takes patience, just as it does for cats."
Those who saw the post couldn't agree more:
Of course it would be way more fun to get a tiny bunny in your Easter basket as a kid instead of sitting on some creepy stranger's lap dressed as one, but the creepy dude will go home to his own house that night and you won't need to feed and care for him for the next ten years.
But hey, to each their own.
If you do decide to add to your fur family, make sure to research the breed beforehand to ensure they will be properly cared for. "It takes a patient person to become friends with these silent and subtle animals," Margo DeMello, president of the House Rabbit Society, said.
No one wants these poor cottontails trying to find a new home, or worse. So, think about it.