Pete Buttigieg Helped A 9-Year-Old Fan Come Out At A Campaign Rally
by Christina Marfice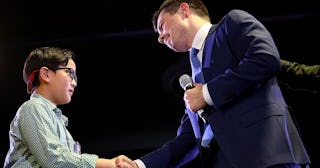 Win McNamee/Getty
9-year-old Zachary Ro needed Pete Buttigieg's help at a Denver campaign rally — and he gave it
A campaign rally in the middle of the fiercely contested fight for the Democratic nomination doesn't seem like the place you'd find a truly heartfelt moment, but that's what happened for Pete Buttigieg in Denver over the weekend, when a young boy at the rally with his family asked the candidate for a pretty big favor.
"Thank you for being so brave," 9-year-old Zachary Ro wrote in the question he submitted for Buttigieg, who is openly gay. "Would you help me tell the world I'm gay, too? I want to be brave like you."
As the crowd gathered at the Denver rally cheered, Buttigieg then invited Ro to join him onstage, and what followed was a truly touching moment between the former South Bend, Indiana, mayor and his young fan.
"I don't think you need a lot of advice from me on bravery. You seem pretty strong," Buttigieg told Ro. "It took me a long time to figure out how to tell even my best friend that I was gay, let alone to go out there and tell the world. And to see you willing to come to terms with who you are in a room full of 1,000 people, thousands of people you've never met, that's really something."
But Buttigieg went on to tell Ro he did have a few tips for him that "might be useful."
"The first thing is that it won't always be easy, but that's OK because you know who you are. And that's really important, because when you know who you are, you have a center of gravity that can hold you together when all kinds of chaos is happening around you," he said.
Buttigieg continued, "The second thing I want you to know is that you'll never know who's taking their lead from you, who's watching you and deciding that they can be a little braver because you have been brave. When I was trying to figure who I was, I was afraid that who I was might mean that I could never make a difference. And what wound up happening instead is that it's a huge part of the difference I get to make. I never could've seen that coming. And you'll never know who's life you might be affecting right now just by standing here, right now. There's a lot of power in that."
Buttigieg came out in his 30s, soon after he was elected mayor of South Bend. He's now our country's first openly gay presidential candidate, and people like Zachary Ro are showing why that kind of representation is so important.