Peter's Mom's Face Was The Real Star Of 'The Bachelor' Finale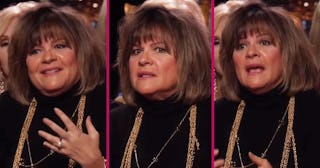 Bachelor Nation/Youtube
The "Barb Cam" gave away all of Peter's mom's true feelings about Hannah Ann and Madi
The Bachelor live finale episode was full of all the twists and turns we expected (like when Hannah Ann found her backbone and delivered the most devastating and stan-worthy breakup speech we've ever seen). But nothing could have prepared us for the real villain of this season: Peter's mom, Barbara, who made her feelings about her son's choices painfully clear via the camera that stayed trained on her face pretty much the entire night.
We already had a clue about how Barb felt about Peter's final two women. On Monday night's episode of the two-part Bachelor finale, we saw her sobbing as she begged Peter to pick Hannah Ann, before saying to the camera, "Madison's a nice girl. Lovely girl. But Hannah Ann is an angel on Earth."
Well, even though it's been a few months since that scene was filmed, Barb's feelings about the two women clearly have not changed at all, and we know that thanks to whichever Bachelor camera operator made sure her face was in view for the entire episode last night.
First, there was the dramatic breakup between Hannah Ann and Peter, during which Barb clearly chose a side — and it was not her son's.
And then, during Madi's sitdown with Chris Harrison, Barb let us know with her face that her feelings about Peter's runner-up had not changed one, tiny bit.
The "Barb Cam" in the corner of the entire season finale is honestly the greatest gift the Bachelor producers have every given us, and viewers were very here for it.
Truly, we need a Barb Cam for every live television event ever. Peter's mom's voiceless commentary is the most entertaining thing that's happened on ABC in months.
There are even people calling for Barb to join Paradise this summer and honestly? I could see it.
Of course Barb, with all her over-the-top emotional reactions to everything, got a little bit of the meme treatment, too.
Most of this went down before the end of the episode, when Chris Harrison actually spoke to Barb and she brutally tore Madison apart and actually said she's rooting for the relationship to fail. It's unfortunate for Peter and Madi that Barb is so against them being together, but for the rest of Bachelor Nation? We just want more Barb Cams.