5th Grader Starts Petition To Rename Middle School After Ruth Bader Ginsburg
by Christina Marfice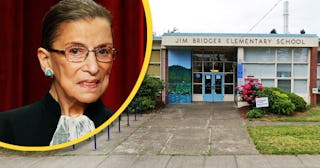 Mark Wilson/Getty and Google Maps
"We have a lot of schools (far too many, in my opinion) named after white businessmen," this 5th grader wrote in her petition to name a school after Ruth Bader Ginsburg
After Supreme Court Justice, feminist icon, and all-around badass Ruth Bader Ginsburg died earlier this month, we've all been looking for ways to honor her, her power, and her achievements in our own lives. Ruby Waas Shull, a fifth grader in Oregon, has found her own way: She launched an online petition calling for a local middle school to have its name changed to honor the late RGB.
Ruby is currently in 5th grade at Bridger K-8 in Portland, Oreg., but in her petition, she pointed to nearby Kellogg Middle School, which is currently being rebuilt as part of the 2017 Health, Safety and Modernization Bond, asking district officials to consider giving it a new name.
"Dear Portland Public Schools, I feel strongly that we should change the name of Kellogg Middle School to Ruth Bader Ginsburg Middle School," she wrote in her petition, which was posted to Change.org with her parents' help. "I feel this way because it is a new school so it should have a new name. We have a lot of schools (far too many, in my opinion) named after white businessmen. Lastly, if kids go to schools centered only on white males then kids who are not those two things may feel unimportant, or worthless even. I trust that you do not want kids to feel this way, so I hope you will take my ideas into consideration."
"It just really impresses me that she hasn't ever given up, even when people said no," Ruby told ABC 13 News.
TBH, we can't argue with her brilliant reasoning. Too many things all over the world are named after white men, and it's about time we got some diversity in those names. Starting with RBG feels right.
As of Tuesday morning, Ruby's petition had garnered several thousand signatures, but as it gains traction online, we expect to see many more people sign it. Portland Public Schools told local reporters that it had not heard of the petition, but said in a statement, "PPS is very committed to student voice and the renaming process. This summer we proposed a new process that aligns with our PPS Vision, our values, commitment to Racial Equity and Social Justice, and is culturally responsive."
According to Ruby's mom, Rachael Waas Shull, the little girl has been asking the district to name a school after RBG for years, but the justice's death this year renewed her passion. She shared Ruby's most recent letter about renaming the school, written in the wake of RBG's death.
Rachael tells Scary Mommy, "We are working out next steps, but Ruby's goal is to present directly to the school board." It's clear that Ruby has no plans of slowing down when it comes to achieving what she set out to do last year. "We are all feeling excited about the possibility of better representation in our monuments and institutions," Rachael says.
"Ruth Bader Ginsburg's been my hero and idol. So it was really important to me to represent her," Ruby explained in an interview with Fox 12 News. Also I knew Kellogg had, his name's Joseph Kellogg I believe, he hadn't really done anything important for the community and Ruth Bader Ginsburg has fought for equal rights for many people."
Here's hoping Ruby can one day attend a school named after her hero, and that Ruth Bader Ginsburg Middle School can inspire many more girls in the future.
This article was originally published on