Gabby Petito Didn't Return From Her Roadtrip — Now America Wants Answers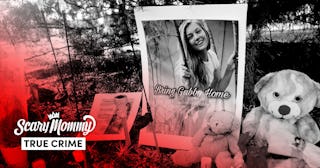 Scary Mommy and Octavio Jones/Getty
There's something of David Lynch's Laura Palmer in Gabby Petito: blonde, young, an American sweetheart type with a darkness underneath. And if Lynch makes Twin Peaks' Laura Palmer seem the archetypical, blue-eyed beauty in death, Gabby Petito is TikTok's Laura Palmer. Five foot two, 110 lbs, on a road trip with a fiance she met in high school: Hollywood could have written her down. She wanted to be a travel blogger; she wanted to drive all the way from New York state to Portland in a converted van.
It all went wrong. Twin Peaks demanded its not-so-innocent sacrificial lamb, and in a bizarre way, so does TikTok. We seem to crave that beauty lost, then its Insta-perfect facade shattered. Gabby Petito didn't live that life she carefully curated. There's darkness there: domestic violence, possibly mental illness. Why did Gabby hook us when over seven hundred Indigenous people, mostly girls and woman, have gone missing in Wyoming in the last decade? When newlyweds Crystal Turner and Kylen Schulte were mysteriously — seemingly without motive — shot dead while camping in Moab only a few days before Gabby and Brian Laundrie passed through?
Simple: Gabby Petito is a classic case of missing white woman syndrome. She looks like a homecoming queen. She's dead, and she had secrets.
Who Was Gabby Petito?
Gabby grew up in Long Island, New York as the oldest of six. She met Brian Laundrie at Bayport-Blue Point High School; according to Nicole Schmidt, Gabby's mother, "They went to high school together. They were friends. They got back in touch and started dating" sometime, it seems, in mid-2019. Gabby moved to North Point, Florida to live with Brian and his parents that same year.
They had already gone on one cross-country road trip — and had been together perhaps a year — when Laundrie popped the question in July 2020. "Brian asked me to marry him and I said yes! @bizarre_design_ you make life feel unreal, and everyday is such a dream with you," Petito wrote with a heart emoji on Instagram, according to Yahoo News (the post has since been removed). Laundrie posted, "My biggest fear is that one day I'll wake up and it will have all been a dream, because that is what every second has felt like since the moment we found each other. Till death do us part or until I wake up, I'm so happy the answer was yes, Love you hunny."
But they weren't ready for marriage, Schmidt reveals, when they started on that cross-country trip — they'd called off their engagement. "I think they kind of put that on hold just because they felt it was a little fast. They were excited at first, but then they were like, let's just wait, we're very young. So they were really just boyfriend and girlfriend."
The first spiderwebbing in the Insta-perfect facade began.
She and Laundrie decided they "wanted to downsize [their] lives", instagramming, and vlogging on the way — #vanlife. They bought that van on December 11, 2020. "We handcrafted our own tiny van, a simple 2012 Ford Transit Connect, utilizing space with unique designs and features. Creating a space for both artistic expression and distance hiking," Gabby says on her one and only YouTube post under the channel Nomadic Statik. "I love the van," she says in the video. But the van seems more for storage and perhaps cooking; clearly, she and Laundrie did their living outside in a tent rather than inside.
Gabby and her fiance traveled to Blue Point, New York to celebrate her little brother's graduation from high school. And on July 2, 2021, they left on what was supposed to be a four-month cross-country road trip.
Laundrie would return.
America's sweetheart would not.
Laundrie and Petito Looked Like The Perfect Couple
July 4th found them at Monument Rock in Kansas; from there, they traveled to Colorado. They visited, in quick succession, three of America's most beautiful desert parks: Zion National Park, Bryce's Canyon National Park, and Canyonlands National Park, with a trip to some hot springs in between. August 12th they were in Arches National Park, made famous by Edward Abbey in his nature epic Desert Solitaire. Gabby wrote, "drawing and enjoying the nature without seeing anybody who was on line or taking photos! It felt like we had the entire delicate arch to ourselves!"
Then that Insta-perfect picture shattered.
A 911 call came in to police later on August 12th: it described a couple in a white van with Florida plates having an altercation, according to The Washington Post. "We drove by them, and the gentleman was slapping the girl," the caller said. "Then we stopped. They ran up and down the sidewalk. He proceeded to hit her, hopped in the car, and they drove off." Police have not confirmed it was Laundrie and Petito.
Later dashcam footage shows police pulling over Laundrie, with a sobbing Petito in the front seat. Laundrie, The New York Times reports, had "some sort of argument" with Petito. In the footage, she sobs and says was putting off a "bad vibe" and may have seemed angry at him when she wasn't, as if she's making excuses for his behavior; while witnesses reported Laundrie hitting her, Utah police describe Gabby as the aggressor. Laundrie, according to the police report, said, "issues between the two had been building over the last few days," and both said it should be called a "mental/emotional health 'break,'" rather than an assault. They separated the two for the night, taking Laundrie to a hotel; Gabby kept the van, which she worried about: she said she didn't drive it often. She also told police that she had "severe anxiety."
Officer Daniel Robbins wrote in his report that, according to The Independent, both Laundrie and Petito had mental health conditions which caused them to argue more, and neither had been taking medications. This last pin on Laundrie's Pinterest board, "Burnt Out: How To Cope With Autistic Burn Out" could shed some light on what Laundrie was coping with.
Both still claimed to be engaged.
Last Communications
Gabby's stepfather says that they last FaceTimed with her on August 23rd: they were leaving Utah and driving to Grand Teton National Park. "From everything we saw in the photos and the videos and when we spoke to her, they were having the time of their lives," he said. But if she had access to FaceTime, why didn't she post more pictures between Arches/Moab (August 12) and her call to her family? She has two more photos on Instagram after Moab: one dated August 19th, and one dated August 25th. Unlike everything else on her page, neither is location-stamped — odd for someone who was trying to make a name or herself doing #vanlife.
What was happening in Wyoming? According to ABC News, she was "last known to be in Grand Teton, Wyoming on 8/25/21 heading towards Yellowstone National Park."
On August 27th, Gabby's mother reports getting an "odd text" from her: "Can you help Stan, I just keep getting his voicemails and missed calls," it said. "Stan" referred to her grandfather — but she never called him that. Her social media posts also stopped, which her mother says, "was not normal behavior." Then one more text came from her phone, on August 30th: "No service in Yosemite." Her family does not believe she sent it.
The internet, for the most part, does not seem to believe that Gabby communicated with the outside world after her altercation in Moab, based on Instagram commenting. As butterflies_green_ says on this post dated July 26th, to over 3K likes, "I think we all think this was most likely her last post… 💔 All the ones after this one don't same the same as all the ones before this one .. You can tell the difference between the two of them after reading his posts on his acct. I hope you're all screenshotting everything." As someone points out, a later photo was edited "4 weeks ago," which would have been around the time of Gabby's death.
Laundrie Returned To Florida Alone
Laundrie returned to Florida on September 1st — without his girlfriend. Everything had come apart. Gabby's parents reported her missing on September 11th; internet involvement in the case racketed up. A beautiful young blonde girl had had disappeared. She had blue eyes and everything was not as Insta-lovely as it seemed.
The FBI named Laundrie a person of interest in Gabby's disappearance — and then he disappeared on September 14th. His car turned up at his parents' home, but Laundrie was nowhere to be found. His family claimed he was "missing," but in a statement from their lawyer on September 18th, Gabby's family made it perfectly clear what they thought about that.
Another #vanlife woman recalled seeing a vehicle matching Gabby's at a remote but popular campsite near Grand Teton National Park. They discovered Gabby Petito's body there.
Her death was ruled a homicide. No further details have been released, including date or cause of death, or even if she was buried.
When Laundrie disappeared, he told his family he was going hiking in the nearby Carlton Reserve. A snake- and gator-infested swamp, the Carlton Reserve would be a great place to evade authorities — if Laundrie is still there. He may be long-gone, some theorize to the Appalachian Trail, but one man claimed to have captured his image on a trail cam in Okaloosa County; however, the Okaloosa County Police Department has said that the person in the image is not Brian Laundrie.
Why the obsession with Gabby? Why not the missing Black girls, the missing Indigenous women? Why is it always the young blonde girl plastered all over the media?
It's because America unfairly paints innocence as blonde-haired and blue-eyed. We love when that innocence masks some darkness underneath. And we love to watch it shatter.
Editor's note: Though there has been an arrest warrant issued for Brian Laundrie, any allegations against him are exactly that, and he is innocent until proven guilty.
This article was originally published on