Dogs Are Dying After PetSmart Groomings And Families Are Left Wondering Why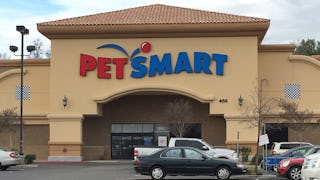 Image via Lynne Gilbert/Getty Images
A new investigation looked into the multiple dogs deaths that occurred after PetSmart groomings
Over the past ten years, there have been 47 cases of dogs who have gotten groomed at PetSmart, only to die during the visit or shortly after. Now, a new investigation from NJ.com has dug into company's practices and unearthed some unsettling results.
Last year, Philadelphia resident Nick Pomilio took his English bulldog Capone to PetSmart for a nail clipping. He told NJ.com that the appointment was supposed to last about fifteen minutes, but ended up taking an hour. Employees eventually wheeled Capone out of the store because he was having trouble walking. About five minutes into the car ride, Pomilio noticed that his dog had stopped breathing. He died shortly after.
"I'll never forget that last look he gave me," Pomilio said. "You don't take the dog to get its nails clipped and it winds up dead as a doornail."
That's just one of the many, many disturbing stories owners shared with NJ.com's reporting team.
PetSmart won't disclose the amount of deaths that have occurred during or shortly after their appointments and groomers are not legally required to publicly report those deaths. The company released a statement refuting claims that their grooming practices are negligent.
"At PetSmart, nothing is more important than the safety of the pets in our care," they wrote. "That is why we have set the highest grooming safety standards in the industry, and our stylists complete 800 or more hours of hands-on instruction and safety certification, working with at least 200 dogs of all breeds and sizes."
Some former employees disagree. Katelyn Douglas worked as a groomer at PetSmart for 16 months and quit because of the company's "numerous (pet) safety violations."
"PetSmart wasn't telling us to be more careful," she said. "They told us, if a dog is being bad, just take it to the back and smile. They didn't say, 'Hey, everyone needs to be making sure we're doing this.' It's more of, 'We need to be sure we look good if someone comes around with a camera phone.'"
She also noted that the grooming training was not as extensive as PetSmart claims it is. On her first day of training, she was given a dog and a pair of clippers and shears. When she told the person in charge that she didn't have any experience using those tools, they just told her to not hurt the animal.
Marti Fernandez, another former employee, noted that safety practices began to decline over the years that she worked at PetSmart. "When the new owners bought [the company], they demanded six to eight dogs in eight hours," she said. "This is in addition to walk-in clients, the phones are ringing off the hook, you're meeting with pet parents, doing paperwork. There's always pressure to do more dogs."
NJ.com's investigation also noted that PetSmart has offered settlements to owners, in addition to confidentiality agreements. When Michael Batchelor's dog came out of his grooming with bloody eyes, the company offered to pay for his vet bill in exchange for him signing a non-disclosure agreement and deleting his Facebook post about the incident. He declined.
Thomas Cunningham's English bulldog died six hours after an appointment at PetSmart, and the company attempted the same tactic.
"They offered me $5,000 and wanted to place a gag on me to not talk," he said. "They said, 'It's not our fault but we're willing to give you $5,000 because Trinity was a service animal and you are a disabled vet, and we take care of our vets.'" He also declined that offer.
Meanwhile, Pomilio said that he hopes PetSmart will be held accountable, though that offers him very little solace. "It won't bring what I miss back," he said. "It won't bring Capone back and that's what I want."
This article was originally published on