Pfizer Is Working On A COVID Booster, But The CDC Says It's Not Needed
by Christina Marfice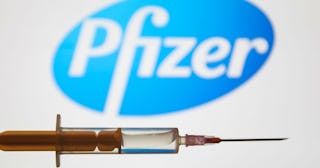 Jakub Porzycki/NurPhoto/Getty
Pfizer plans to seek emergency authorization for a COVID booster shot in August
America is fully reopening, despite lagging vaccination rates. But as people crowd back together and ditch their masks, concerning new variants of the coronavirus, like the Delta strain that was first identified in India, are spreading — and fast. Though protection from the vaccines administered in the U.S. — Pfizer, Moderna, and Johnson & Johnson — still appears to be strong, even against variants, we've always known there was a possibility that we'd all need booster shots to keep the pandemic at bay. Now, Pfizer says it's seeing evidence that the immunity its vaccine offers to people is beginning to weaken, and says it's already working on a booster shot.
Pfizer said it's getting ready to publish data about the efficacy of a third dose of the vaccine, and plans to submit it to the Food and Drug Administration for emergency authorization to administer third doses as booster shots in August.
"As seen in real world data released from the Israel Ministry of Health, vaccine efficacy in preventing both infection and symptomatic disease has declined six months post-vaccination, although efficacy in preventing serious illnesses remains high," Pfizer said in a statement. "Additionally, during this period the Delta variant is becoming the dominant variant in Israel as well as many other countries. These findings are consistent with an ongoing analysis from the Companies' Phase 3 study. While protection against severe disease remained high across the full six months, a decline in efficacy against symptomatic disease over time and the continued emergence of variants are expected. Based on the totality of the data they have to date, Pfizer and BioNTech believe that a third dose may be beneficial within 6 to 12 months following the second dose to maintain highest levels of protection."
But just hours after Pfizer made that announcement, the FDA and the Centers for Disease Control and Prevention issued a joint statement of their own, saying Americans don't need booster shots yet and it's up to them — not private companies — to decide when the shots will be needed.
"Americans who have been fully vaccinated do not need a booster shot at this time," they said.
Pfizer has been studying its vaccines' safety and efficacy since it first started developing them, and has a wealth of the most recent data available to show whether Americans who received Pfizer vaccines will need a booster shot. To be directly contradicted by major health agencies like that is sure to fuel more hesitancy in a population where nearly half of eligible adults and teens still aren't vaccinated.
The situation is so strange the the World Health Organization also weighed in.
"We don't know whether booster vaccines will be needed to maintain protection against COVID-19 until additional data is collected," WHO said in a statement.
Of the 158 million people who have been vaccinated in the U.S., more than half received Pfizer's vaccine.