Pfizer Just Asked The FDA To OK Covid-19 Vaccine For Kids 5-11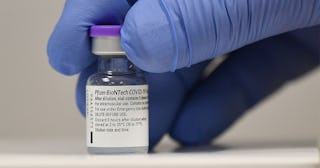 Justin Tallis/Getty
Depending on how soon FDA officials meet, Pfizer's vaccine could be authorized for kids sometime next month
Finally, the news so many parents have been waiting for: On Thursday morning, Pfizer and BioNTech announced that they've asked the FDA to authorize emergency use of their COVID vaccine for kids ages 5 to 11. If emergency authorization is granted, 28 million more people in the U.S. will become eligible to receive the vaccine. The two pharmaceutical companies behind developing the shot say they've submitted data to the FDA that shows the shot is safe and effective for kids in that age range.
The FDA has promised to move as quickly as possible on the request, especially given the prevalence of the delta variant and how it's driven a huge surge in pediatric COVID cases over the last few months. As of now, officials have tentatively scheduled a meeting for Oct. 26 to discuss the data and consider Pfizer's request. Based on that timeline, they'd be likely to make their decision sometime between Halloween and Thanksgiving.
Many parents have been anxiously awaiting a shot for kids, especially as schools across the country opened for in-person learning this year, at the same time that delta cases were surging and peaking. Getting kids immunized would mean protecting them for things like travel and family gatherings, but also helping to prevent disruptions to their education. This school year has been full of those, as virus outbreaks have caused schools to temporarily close down, and forced thousands of kids into isolation after being exposed to someone with the virus.
This vaccine news also comes at a time that pediatric COVID cases are seeing some of their highest levels ever. 30,000 kids were hospitalized with COVID-19 just in August. According to the American Academy of Pediatrics, that month brought the total number of kids infected with the virus to 5.9 million. Around 500 people under 18 have died from the virus, and 125 of them were between ages 5 and 11, the ages who would be able to receive the Pfizer vaccine if it is approved.
The vaccine that Pfizer tested in kids and submitted to the FDA is about one-third of the dose given to adults. FDA officials will have to look at the data about the safety and efficacy of the shot, as well as data about its purity and stability when mass-produced. Since the dosage for children is different, it will also need different packaging and labeling, which falls under the purview of the FDA. They'll also decide whether kids should receive two doses, like adults currently do, or if just one dose gives them sufficient protection.