Pfizer Says Its COVID Vaccine Is More Than 90% Effective In Kids Ages 5-11
by Christina Marfice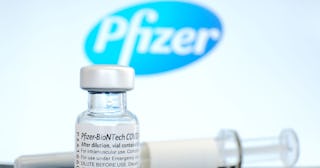 Flowersandtraveling/Shutterstock
Data submitted by Pfizer shows that a reduced dose of its COVID vaccine is extremely protective for kids ages 5 to 11
This is the news parents, teachers, doctors, and everyone tired of this pandemic have been waiting for. Pfizer has submitted study data that it says shows its vaccine — in reduced doses — is incredibly effective at protecting kids from COVID-19. The data appears to show that Pfizer vaccines for kids are safe and more than 90 percent effective at preventing symptomatic infection. The news comes as parents are anxiously waiting for a way to protect their younger kids, and the FDA is considering opening up vaccines to younger age groups.
According to The Associated Press, the Pfizer study tracked 2,268 kids ages 5 to 11 who received shots of either a small dose Pfizer's existing COVID vaccine (about one-third of the dose given to adults and older kids), or a placebo. 19 of the kids in the study became infected with COVID-19 — 13 vaccinated with the placebo, and just three who were given the Pfizer shot. Additionally, kids given the smaller dose of vaccine were shown to develop antibodies just as strong as adults and older kids who have received a Pfizer vaccine already.
Depending on the FDA, shots for kids could start rolling out in a matter of weeks. If kids can start getting vaccinated in early November, some of the first to get their shots will be fully protected by Christmas, a thought that honestly brings tears to my eyes.
Pfizer posted its data online on Friday, and the FDA is expected to release its independent review of the data later in the day. An FDA advisory panel is set to publicly debate Pfizer's data next week, and if it decides to authorize vaccines for younger kids, the CDC will then make a final decision on who should receive them.
Meanwhile, the country is ready for pediatric vaccines to roll out. More than 25,000 pediatricians and primary care providers across the country have signed up to begin inoculating children as soon as the vaccines are approved. The rollout for kids will look a little different than it did when vaccines were first released for adults — instead of government-run mass vaccination sites, the Biden administration is relying on the existing network of doctor's offices and pharmacies who already provide the vaccine to those 12 and older to administer shots to younger kids.
The Biden administration has also already purchased enough of Pfizer's smaller dosed children's vaccines to administer them to every child between the ages of 5 and 11 in the U.S. — about 28 million altogether. As soon as the vaccine is approved, those doses — and enough child-sized needles to administer them — will be shipped out using existing vaccine supply chains.