U.S. Will Get The Additional 100M COVID Vaccine Doses Trump Forgot To Order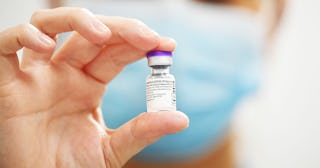 Justin Tallis/Getty
Hooray, we're getting more Pfizer vaccines after all
Earlier this month as healthcare workers lined up to receive the first doses of the COVID-19 vaccine, word got out that our moron president Donald Trump didn't buy as many Pfizer vaccines as he could have. At the time, it was reported that the White House declined "multiple" offers from Pfizer to buy more vaccines. However, Trump has finally gotten his act together and thank goodness for that, because Pfizer and its German partner BioNTech, have just announced that they will supply the U.S. with an extra 100 million doses of the vaccine.
The AP reports that this brings the Pfizer vaccine total to 200 million doses for the U.S. which is enough to vaccine 100 million people, as a complete vaccine schedule includes two doses. The Trump administration also recently upped its Moderna package, bringing the Moderna total to 200 million doses, which — like Pfizer — would inoculate 100 million individuals. Unclear why the Trump administration didn't buy enough doses at the start because it's basic math, but here we are, and it's very good news. This latest batch of 100 million doses won't be rolled out until June and July 2021, but that was always the plan. Even if the Trump administration purchased the doses earlier this year, they were still reserved for the summer rollout.
Health and Human Services Secretary Alex Azar said in a statement (via the AP) that the new Pfizer doses "can give Americans even more confidence that we will have enough supply to vaccinate every American who wants it by June 2021."
With both the Pfizer and the Moderna vaccines, the government has the option to purchase an additional 400 million doses.
Right now the priority groups for the vaccine are health care workers and nursing home residents, after that the CDC recommends that essential frontline workers and those over 75 years old receive the vaccine next. After that, priority goes to anyone over 65 with high risk medical conditions and "other essential workers." These are CDC suggestions, but it's up the individual states to decide who to vaccine first — as we've seen that many members of congress have already received the vaccine.
"With these 100 million additional doses, the United States will be able to protect more individuals and hopefully end this devastating pandemic more quickly," Pfizer CEO Albert Bourla said in a statement.
To date, Bloomberg reports that 792,142 vaccine doses have been administered (mostly to healthcare workers). Globally, 2.4 million people have been vaccinated.
The good news is that everyone who wants a vaccine in the U.S., can get one, for free — it just might not be until this summer, but better late than never.