Pfizer Vaccine Could Be Available For Kids Ages 5-11 By Halloween
by Kristina Johnson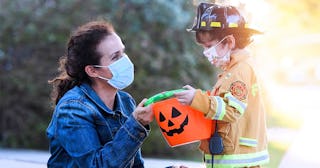 Juanmonino/Getty
Parents eagerly anticipating vaccinating their little ones could get soon get the chance
After months of clinical trials, Pfizer is getting ready to ask for emergency approval for a COVID vaccine for kids age 5 to 11. If all goes to plan — children in that age group could start getting their shots in a matter of weeks — four to six weeks, by the estimate of former FDA commissioner Scott Gotlieb.
"I think that there's a possibility you could have a vaccine as early as around Halloween — maybe a little bit later, you might lose a week here or there," Gottlieb said on CBS Mornings.
"We are eager to extend the protection afforded by the vaccine to this younger population, subject to regulatory authorization, especially as we track the spread of the Delta variant and the substantial threat it poses to children," Pfizer's chairman and CEO, Albert Bourla, said in a statement noting that it's both safe and effective.
Clinical data the company is preparing to submit to the FDA shows the shot produced a "strong immune response" in kids one month after receiving their second dose. "The COVID-19 vaccine was well tolerated," the company also noted, saying the side effects observed in kids were comparable to those seen in adults — the most common of which are typically fatigue, headache, and overall soreness.
As for kids younger than 5, the company laid out a timeline for them, too. "Topline readouts for the other two age cohorts from the trial — children 2-5 years of age and children 6 months to 2 years of age – are expected as soon as the fourth quarter of this year."
For parents who've been watching and worrying as cases among kids have skyrocketed over the last few weeks, the news of the vaccine's seemingly imminent debut will be very welcome. The American Academy of Pediatrics tracks child COVID cases, reporting nearly 250,000 infections in kids per week as of September 9. Overall — more than 5 million kids have contracted the virus since the pandemic began.
It's not a coincidence that those numbers have so dramatically increased at the same time as kids are back in their classrooms for a new school year — the third one impacted by the pandemic. The COVID vaccine is already available for kids 12 and up, though only about 50 percent of them have actually gotten their first dose. For the pandemic to end — and for children to get back to the long-awaited "normal" that they truly deserve — the vaccine will have to play a big role.