New Study Suggests Pfizer's COVID-19 Vaccine Works Against Virus Variant
by Julie Scagell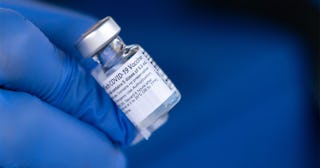 Sean Rayford/Getty
More studies will be done to test the other major vaccinations in the U.S.
New research suggests Pfizer's COVID-19 vaccine can protect against two highly contagious variants of the coronavirus that have spread quickly in Britain and South Africa, the Associated Press reported. The mutant variant of the novel coronavirus first seen in Britain also been found in five states in the U.S., including New York, Florida, Georgia, Colorado, and California.
The study was preliminary and did not look at the two other major vaccines being used to vaccinate Americans: Moderna's and AstraZeneca's. But knowing at least one vaccination being distributed can protect against the new variants have given scientists hope — for now. "There's no reason to think the vaccines won't work just as well on these strains," said Dr. Frederic Bushman of the University of Pennsylvania, who is tracking how the virus mutates.
Studying any variants or mutations that arise is critical because, like all viruses, the coronavirus is constantly evolving. This study will be the first of many to determine if current vaccinations can prevent future outbreaks from happening. Scientists believe the country needs a way to quickly detect strains that could cause the virus to change and current vaccinations are rendered useless.
Finding new strains involves sequencing the genetic code of the virus, NBC News reported. It's a process that can take days to complete and can cost upwards of $100 per sample, depending on the technology.
"It was a very reassuring finding that at least this mutation, which was one of the ones people are most concerned about, does not seem to be a problem" for the vaccine, said Pfizer Chief Scientific Officer Dr. Philip Dormitzer. Dormitzer also said if the virus eventually mutates in a manner that requires the current vaccine to be adjusted (similar to flu shots), it wouldn't be difficult for the company to do so.
Another variant found in South Africa, however, has not been studied. This one, E484K, is next on the list to determine if current vaccines will protect against it. The Pfizer study found that the vaccine appeared to work against 15 additional possible mutations.
Food and Drug Administration (FDA) Chief Stephen Hahn said the agency has been monitoring the virus closely for any mutations that could skew testing results. The FDA is also studying whether viral mutations could affect rapid tests that look for COVID-19 proteins, called antigens, which many people are getting to determine if they've had the virus but showed no symptoms.
Unfortunately, the U.S. has sequenced only about 60,000 samples, or 0.3 percent of all cases, according to the nonprofit GISAID Initiative. This is comparatively extremely low compared to the numbers in other countries.
"We haven't had a national coordinated system in place to do this at a high scale," said Brian O'Roak, a human geneticist at Oregon Health & Science University. "Maybe now with the U.K. strain, it's really a wake-up call for many out there in the public health world."
One of the biggest concerns is that a new variant could render the new vaccines less effective and we could find ourselves quickly back to a pandemic level if not caught quickly.
"We need to understand how the virus is spreading and how the virus is evolving, especially as we bring on wide-scale vaccination and treatments," O'Roak said. "We've only been dealing with this virus for a year, and we don't understand it well. But if we don't shine the spotlight on the virus genome, then we'll never know."
Information about COVID-19 is rapidly changing, and Scary Mommy is committed to providing the most recent data in our coverage. With news being updated so frequently, some of the information in this story may have changed after publication. For this reason, we are encouraging readers to use online resources from local public health departments, the Centers for Disease Control, and the World Health Organization to remain as informed as possible.