Pfizer Says Its Vaccine Is Safe And Effective In Kids Ages 5 To 12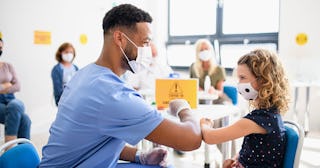 Halfpoint/Getty
Pfizer says a study showed that a low dose of its COVID-19 vaccine is safe and effective for kids as young as 5, but the FDA will now need to review the data
One step closer to a COVID-19 vaccine for younger kids. Pfizer just announced that a lower dose of its two-shot vaccine — about one-third of the amount given to teens and adults — is safe and triggers a healthy and robust immune response in kids as young as 5 years old. This news has been eagerly awaited by parents, pediatricians, and kids themselves, especially as COVID outbreaks have continued to disrupt learning for kids who went back to school this year.
The next step is for Pfizer to submit its study data to the FDA, who will review it to determine whether the vaccine is safe and effective enough to be approved for use in kids. While Pfizer will likely submit the data by the end of this month, FDA review could take weeks, or even months. Still, there's hope that a COVID vaccine may be available for younger kids by Halloween.
Pfizer's vaccine is the only one that has been approved in the U.S. for some kids — those 12 and over can currently receive the shot. But there have been many reports of parents asking pediatricians to bend the rules and vaccinate kids who are younger than 12, especially as the delta variant has caused pediatric COVID cases to soar. This data may make more parents think it's safe to try to get a shot for a younger child, but researchers are already warning that that isn't the case — the dose testing by Pfizer in younger kids was much lower than the dose in the shots currently available.
"No one should really be freelancing — they should wait for the appropriate approval and recommendations to decide how best to manage their own children's circumstances," Pfizer's senior vice president of vaccine clinical research and development, William C. Gruber, told the Washington Post. "Nature has equipped us, particularly when we are young, to respond very well to an assortment of things we will encounter in nature — and we will use vaccines to accelerate that process and really improve on nature."
Even as a children's vaccine inches closer to being available, it may not be widely used. Children are still far less likely than adults to experience severe cases of COVID-19. While 12-18-year-olds have been eligible to get vaccinated since May, the American Academy of Pediatrics says only about 50 percent have received a shot so far.