Dads Dancing With Their Daughters In Ballet Class Become A Viral Sensation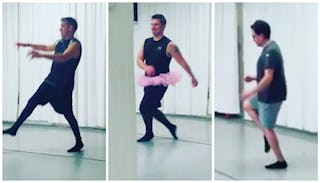 Talented dads with tutus hit the dance floor, and the results are too-too cute
Men in tights are certainly wonderful, but what about dads in tutus? They are heartwarming and adorable. A group of talented dads in Philadelphia are going viral for their incredibly awesome dance moves and their unbridled commitment to their daughters.
The Philadelphia Dance Center hosted a special day of classes for Valentine's Day, and asked parents to show some love and come dance with their kids. And wow, did they show up. Some dads got gussied up in tutus and tights, others donned sweatpants and T-shirts, all to twirl, arabesque and plié with their daughters.
Our cold, dead hearts have officially melted all over the floor. These dads partnering with their budding ballerinas is incredibly precious (and not to mention pretty funny). They didn't care what they looked like, graceful or not, and that was the beauty of it.
The dance studio posted another video showing the dads pointing their toes and leaping through the air to a familiar song – "Waltz of the Flowers" from Pyotr Ilyich Tchaikovsky's "The Nutcracker Suite."
Both videos have been shared over 150,000 times on Facebook, and it's easy to see why. The videos are not only adorable, but they speak to a much larger idea – parental involvement is everything. The comments on both videos were overwhelmingly supportive, with people swooning over these devout dads.
"Thank you dads, for just being that. A Dad! You guys rock! I loved the videos of you and your daughters," said one commenter.
"These dads rock!! So important to support your children in what they love!" wrote another person.
Dads supporting daughters in their activities (no matter what they are – dance, sports, etc) is extremely important. Love and support comes in all sorts of gender-bending ways, and keeping the core idea that love is love, is crucial for our kids and families. These dads got to see how hard their daughters work (by trying to replicate their graceful moves), and undoubtedly developed a deeper appreciation for their daughters commitment to dance in the process.
The Valentine's daddy-daughter ballet class was obviously quite the success. After receiving such an outpouring of attention on social media, the dance school posted a thank-you message to the dads.
The dance school also wrote a message of thanks to all of their supporters, both new and old, with a beautiful and poignant Facebook post.
"Thank you for recognizing the beauty, love, and joy that dance can bring into the world. It just proves that art, love and family are the international language."
This article was originally published on