People In Philadelphia Are Literally Dancing In The Streets And We Get It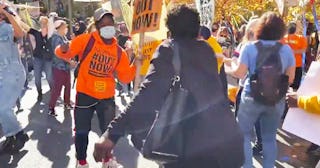 HelenGymAtLarge/Twitter
The people of Philadelphia celebrated Joe Biden's lead on Friday by dancing in the streets
Living in Pennsylvania — and specifically in Philadelphia and the surrounding suburbs — has been increasingly hellish over the last couple of months. Not only has the city been ravaged by COVID-19, rampant looting, and racial violence, but the fact that it also happens to be a swing state in the most monumental Presidential election of a lifetime — then add that to how darn long it has taken to count all the mail-in ballots and the endless memes circulating on the internet in reaction to it — explains why it is in extra-tense time to live in the "City of Brotherly Love" and the Keystone state, in general. However, on Friday the pressure of the election was finally relieved on Pennsylvanians after Joe Biden crept past President Donald Trump, unofficially securing him as the next President with their electoral votes. So, it only made sense that Philadelphians celebrate the win — as well as the awesomeness that is Philly — by dancing in the streets.
In the late morning the streets of Philadelphia — just about 30 miles from Biden's home in Wilmington, Delaware — filled with vibrant faces, dancing their asses off and sharing sweet joy by getting down to the classic tune "Dancing in the Streets" by Martha and the Vandellas.
"Song of the day in Philly," tweeted Philadelphia councilmember-at-large Helen Gym.
"Philly can't stop won't stop until every vote is counted!" she captioned another, featuring the tune "Jump On It" by Sugarhill Gang Apache.
The celebration even made its way to John Legend, who happened to attend college at University of Pennsylvania.
"Some morning joy," he tweeted, sharing a video. "Thank you, Philadelphia."
Philadelphia Mayer Jim Kenney also had a message for Trump: "I think what the President needs to do is, frankly, put his big boy pants on," he said on Friday.
But the party didn't start on Friday. According to a report from the Philadelphia Inquirer, a bash broke out Thursday night around the Convention Center where ballots were being tallied.
"We're dancing in the streets like Lionel Richie," Rowena Dabney, 43, a small-business owner from North Philadelphia, told the paper. "This energy is coming from hope."
Earlier in the day, 50 Trump supporters sat across from them waving Trump flags and attempting to "stop the vote" of mail in ballots. However, by nightfall they were gone, and the party started.
Per the Inquirer, the party was wild with "little kids, union members, and people dressed like drop boxes," people dressed as Joe Biden and even a "pro-Biden French horn player, all dancing alongside each other as DJs blasted music.
"Yo, this has to be the best block party in America right now!" one of the DJs yelled, according to the paper.
Yep, sounds about right!
This article was originally published on