Philando Castile Was Absolutely Beloved By The Kids He Served Every Day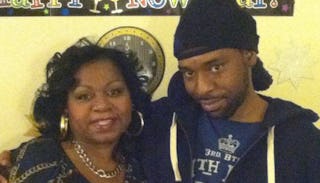 Image via Twitter
Philando Castile was a much-loved cafeteria supervisor at a Minnesota magnet school
Coworkers and parents of students gathered together this week to remember Philando Castile, the man who was shot and killed by a Minnesota police officer during a traffic stop on Wednesday. Colleagues said Castile was an ambitious man and a role model for the hundreds of students he served as a cafeteria supervisor at J.J. Hill Montessori Magnet School in Saint Paul.
Castile memorized the names of the 500 children and their food allergies, a former colleague told reporters. "He remembered their names. He remembered who couldn't have milk. He knew what they could have to eat and what they couldn't," Joan Edman, 62, told TIME. Edman recently retired from the school. "This was a real guy. He made a real contribution. Yes, black lives matter. But this man mattered."
Indeed, here is a card a student made upon hearing the news of Castile's tragic death.
Castile was shot and killed in front of his girlfriend, Diamond Reynolds, and her 4-year-old daughter after police pulled their car over for a broken headlight. Reynolds said Castile was following the officer's instructions to put his hands in the air and get his license and registration. He told police he had a permit to carry a gun and that it was in the car, according to Reynolds. Castile did "nothing but what the police officer asked of us," she said. "Nothing within his body language said shoot me."
She captured the moments following the shooting on video using Facebook Live. It went viral and sparked protests across the United States. Since then, the magnet school community where Castile worked has spoken out about how important he was in the lives of 500 children.
"We had a calmer cafeteria this year, and I think it was because he was there." Edman said Castile was a devoted employee who adhered to rules strictly. "I've never seen anybody take that kind of role so seriously," she shared. Edman said the kids Castile served looked up to him because he taught them lessons about being respectful. She said he "has that presence that people respect and they become more respectful too."
"I think he did that for kids. Kids watch everything, and they saw that," Edman shared. "He had so much going for him. He didn't have an ax to grind. It just doesn't make sense. This is a real person. Five hundred real children are directly impacted."
Castile, killed a week and a half before his 33rd birthday, had worked for Saint Paul Public Schools (SPPS) since he was 19 years old starting in the Nutrition Services Department, the school district said in a statement. "I am deeply sorry for his family and for their loss. He's worked in SPPS for many years and he graduated from our district, so he was one of our own," SPPS Superintendent Valeria Silva said. Castile had been promoted to his supervisor role two years ago. Parents of students who attend the school came together to remember the man they said made the cafeteria into a positive and cheerful space.
"He was a fixture. I was always happy to see him around school. The cafeteria was a pretty happy place," says Andrew Karre, whose 8-year-old son attends the school. "He was part of the community and an important one. He was just a nice, caring person who worked at the school, who should not be dead." Minnesota Gov. Mark Dayton agreed and asked the U.S. Department of Justice to launch an investigation in the shooting.
"Nobody should be shot and killed in Minnesota for a tail light being out of function," the governor told reporters this week. "Would this have happened if the driver and the passengers were white? I don't think it would have."
This article was originally published on