Philando Castile Charity Pays Off Entire School District's Lunch Debt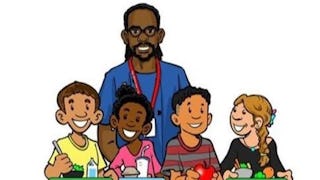 Image via YouCaring
Philando Castile charity will pay for lunch for kids who can't afford it
Two years after he was senselessly shot and killed at a traffic stop, Philando Castile continues to give back to his community. A charity created in the memory of the 32-year-old has footed the bill of an entire school district's lunch debt.
That means that parents in St. Paul, Minnesota's public school system no longer have to worry about their child losing out on meals because of their overdue payments.
Castile, who worked as a school nutrition supervisor before his death, used to dip into his pocket to pay for students who couldn't afford lunch. Philando Feeds The Children wants to keep his kind, giving spirit alive by making sure that no child has to go without a cafeteria meal. This week, they dropped a $35,000 check off at St. Paul's school district office — covering the cost of every parent's overdue lunch bill.
"St. Paul Public Schools System has 56 schools. K-12. And this fund, Philando Feeds the Children, just paid off the lunch debt for all of them!" the charity announced on its fundraising page. "That means that no parent of the 37,000 kids who eat meals at school need worry about how to pay that overdue debt. Philando is STILL reaching into his pocket, and helping a kid out. One by one. With your help."
This is a huge, huge deal. When students have lunch debt, they're often denied the hot food that their peers are served, and handed cold sandwiches instead. In some schools, students with overdue bills aren't served food at all.
Now that the lunch debt has been paid, parents are finally free to apply for reduced-price lunches. And the legacy fund isn't stopping there. They're continuing to raise money to help pay for school lunches — for students in St. Paul and beyond.
"The goal continues to rise because we continue to challenge ourselves and the greater community to make this fund permanent," the fundraising page noted. "Mr. Phil will feed his kids for as long as we can raise the money."
If you'd like to donate to Philando Feeds The Children, you can head to their legacy fundraising page here.