Did Former NFL Player Phillip Adams Commit Murder Because He Had CTE?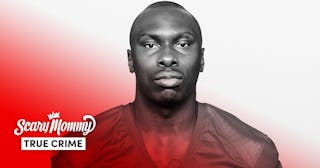 Scary Mommy and NFL/Getty
On a Wednesday afternoon in York County, South Carolina this April, Phillip Adams strode up to the home of physician Dr. Robert Lesslie carrying two guns. Two air conditioning technicians were outside of the home. Adams shot them both multiple times, killing one, and then forced his way into Dr. Lesslie's home. Inside, he shot and killed Dr. Lesslie, his wife Barbara, and the couple's two grandchildren, just 5 and 9 years old.
One of the air conditioning technicians, James Lewis, died on the scene. The other technician, Robert Shook, who unfortunately died three days later from his injuries, called his employer, who in turn called 911. Authorities played the call at a news conference the following day. In the call, the caller tells the operator that "[the worker was] screaming that he had been shot, and the other technician … had been shot and was non-responsive."
Around the same time, another 911 call was placed by a man who had been outside mowing but had heard popping noises. When he went to Lesslie's property to check on the sound and saw from a distance that a man was lying on the ground, he realized the pops he'd heard were gunshots.
Investigators apparently found an item left at the Lesslie home that led them to suspect Adams. They drove to the nearby Adams family home, cleared Phillip Adams' parents from the residence, and attempted to contact Adams. Eventually, they found his body inside the home. He had apparently shot himself.
A Shocking Tragedy Rocks A Community
In the immediate aftermath of the shooting, no one in the community of Rock Hill, South Carolina, a city of 74,000 residents, could conceive of why Phillip Adams would suddenly go on such a violent killing spree. "There's nothing about this right now that makes sense to any of us," the local sheriff said in a press conference. Dr. Lesslie had served as Winthrop University's supervising physician and medical director, and he'd founded a hospice service and a house-call doctors' service. He'd assisted with the university's COVID response. By all accounts, he was beloved by his community.
So the community is left wondering why. What motive could Adams have possibly had to target Lesslie's home? A local news station interviewed Alonzo Adams, father of Phillip, who said that Dr. Lesslie "used to be my doctor a long time ago" and that he would keep the victims in his prayers.
Later the following day though, in an interview with Alex Giles of WBTV News, U.S. Rep. Ralph Norman said he believed that Adams had been receiving treatment from Lesslie and that Lesslie had stopped prescribing him a certain medication, the name of which is unknown.
In the interview, Giles asks, "Did you say that he was treating Adams? Or that it was your understanding that he had been treating Adams?"
"My understanding, he was treating him and stopped giving him medicine," Norman says, adding that he got the information from local law enforcement. "And that's what triggered the killings, from what I understand."
At this time, law enforcement has neither confirmed nor denied Rep. Norman's statements.
Exploring The Possibility Of CTE
Now Alonzo Adams has asked that his son's brain be studied to see whether he was suffering from chronic traumatic encephalopathy, or CTE. Scientists believe CTE can result from repeated head trauma — not just concussions, but the kind of repeated, brain-rattling impacts that happen in American football. The constant trauma to the brain can lead to a buildup of a protein called tau, which forms around small blood vessels and in the valley of the brain's cortex. Tau can spread to other parts of the brain too and cause long-term irreversible damage.
CTE is believed to produce a range of life-changing and personality-altering symptoms, from Alzheimer's-like memory loss and mood swings to paranoia, aggression, impulsive behavior, and suicidal thoughts.
CTE In The NFL
Mike Webster (1952-2002) played NFL football for 17 years and was the first former NFL player to be diagnosed with CTE. After retiring from football, he experienced amnesia, dementia, and depression, and for years he lived out of his truck. Dr. Bennet Omalu, a forensic neuropathologist working to bring awareness of CTE to the public, diagnosed Webster with the disease. Omalu's diagnosis was mostly ignored by the NFL until 2009 when Chris Henry, an active player at the time, was also diagnosed with CTE.
A disturbing number of cases have arisen in the last decade as scientists have been testing the brains of former NFL players. A study published in JAMA in 2017 revealed that CTE was discovered in 99% of deceased NFL players' brains that had been donated for scientific research.
Some of the examples of known cases of CTE are startling. Junior Seau died by suicide three years after leaving the NFL. He'd played for 20 years. Aaron Hernandez, who had played tight end for the New England Patriots, was sentenced to life in prison for committing first degree murder. He died by suicide in his cell in 2016. Tommy Nobis had a long career with the Atlanta Falcons. During his retirement he was known for severe mood swings and other behavior problems. In 2019 Boston University CTE Center confirmed Nobis had CTE. Dave Duerson, a safety for the Chicago Bears, died by suicide in 2011. His last text to his family read, "PLEASE, SEE THAT MY BRAIN IS GIVEN TO THE NFL'S BRAIN BANK."
Can CTE Be Blamed For Phillip Adams' Horrific Acts?
In 2012, Phillip Adams suffered two diagnosed concussions over a period of three games. But, to reiterate, concussions alone are not the primary cause of CTE — it's the ongoing repeated head trauma.
Adams' sister told USA Today that in recent years, her brother's "mental health degraded fast and terribly bad." She added that the family noticed "extremely concerning" signs of mental illness. "In conversations, it would escalate to arguments,'' she told USA Today. "Normally it would just be a normal conversation. His temperament had changed where he was super laid back forever and all of the sudden he had that temper. You could just tell that something was off."
Adams' high school coach, Gerald Dixon, a former NFL linebacker himself, noted that Adams had been a "team leader" in high school, and that he was "mild-mannered and humble." He said he'd spoken to Adams recently and hadn't noticed any unusual or concerning behavior. "Anytime I talked to him," he said, "he was always happy and just reminiscing about old things." Dixon did concede that repeated head trauma from football may have impacted Adams as it had other players, though.
It will be at least several months before CTE test results will be available.
Though it's vitally important to consider CTE as a major contributing factor as it relates to violent crime, it in no way excuses or diminishes the fact that this was a senseless and tragic act in which innocent people lost their lives. Even if CTE is found to have played a role, it isn't fully to blame; in a case like this, it seems, we'll never have all the answers.
This article was originally published on