Here's Some Photographic Proof That Moms Get Sh*t Done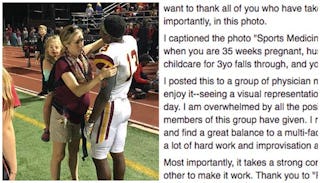 Image via Facebook/ Megan Meier
Sports medicine physician goes to work pregnant and with a baby strapped to her back — and the image goes viral
Megan Meier, a sports medicine physician in Oklahoma City, ran into a little problem recently. Her husband was out of town and childcare for her three-year-old fell through. So she decided to strap her three-year-old to her back and go to work anyway.
Did we mention she's pregnant?
She posted a photo of herself on-the-job to a group of physician moms on Facebook, and it quickly went viral because it is badass.
"A photo of me providing sideline coverage for my high school football team, Putnam City North, recently went viral," she explains on her Facebook page. "This is what happens when you are 35 weeks pregnant, husband leaves town for the weekend, childcare for 3-year-old falls through, and you have a game to cover!"
Thirty-five weeks pregnant, with a three-year-old strapped to her back. We're impressed, because we may or may not have opted to stay home, put our feet up, and use the no-fail "I'm pregnant and my babysitter fell through" excuse. Not Meier. She decided to power through the no-babysitter hiccup.
"I posted this to a group of physician mom's because I thought they would enjoy it–seeing a visual representation of what we all do each and every day," she explains. "I am overwhelmed by all the positive feedback and support the members of this group have given. I really believe that you can have it all and find a great balance to a multi-faceted career and life. However, it takes a lot of hard work and improvisation at times."
This would be an example of the "hard work" part of that statement.
"I have definitely had people question me and doubt me as a woman, and specifically as a mom, in medicine along the way in my career," Meier tells Scary Mommy. "For me, it's about pushing through and proving that you can get the job done–no matter how many jobs you're doing at the same time."
We asked her if she was worried that there may be people there who would not be supportive of her decision to bring her child to work. "It didn't matter to me whether or not I would be supported — both jobs had to be done and done right."
Mic. Drop.
"Worrying about the naysayers is not my business. I'm there to care for my team but I'm always in charge of caring for my daughter and can't risk her running onto the field or getting hit when the play moves fast into the sideline," she explains. "Fortunately, I currently work in an environment where everyone has been supportive and understanding of my roles. This is part of the reason why I'm in Oklahoma doing what I'm doing."
"It takes a strong community of people supporting each other to make it work," Meier says. Truth. Her babysitter skipped out and it was no big deal that she brought her kid to work with her. She was clearly supported in her job, and allowed to set her own parameters and comfort regarding what she could physically handle. And that is awesome.
Moms. Getting it done since, forever.
BONUS CONTENT: "The Mom Club: 10 Stories to Make You Feel Like a Better Parent." Download it here!
This article was originally published on