Photo Of Teacher Walking His Third Graders Home From School Goes Viral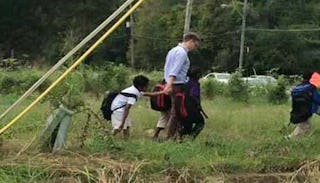 Someone snapped a photo of a Memphis elementary teacher walking his kids home after school and sent it to their local news station. Fox 13 posted it to their Facebook page, where it quickly went viral.
Carl Schneider is a third grade teacher at Whitney Elementary School. He and two other teachers walk their kids home from school every day. He says about all the attention he's received, "I was kind of surprised but at the same time I'm also really glad that people know the teachers in this community are really invested in the community."
FOX 13 reports that the teachers began walking their students the one and a half mile trek home three years ago. They collectively walk about 40 students home. Principal Debra Broughton says the effort started when the administration realized there was a need in the community for "children to be able to get home safely," but admits its turned into much more than just a safety exercise. Teachers are using the time to connect with students on a more personal level, and interacting with their parents, as well. "I have a student on a behavior so every day I give his dad a copy of his behavior sheet and we have a quick debrief about the behavior of the day," said Schneider. "I don't teach kindergarten but I have three to four kindergartners who look for me every day and we all hold hands and walk together."
Wow. Not only do the teachers spend the day with their kids, they walk nearly two miles every day to make sure the ones who need it get home safely. That is truly beautiful.
Teachers aren't just doing a job, they are spending almost as many waking hours with our kids as we are. Schneider says of the daily walk, "This is just part of my routine and it's something that I look forward to."
It may be a part of his "routine," but it's also above and beyond what his job calls for. Clearly for Schneider and his colleagues, being a teacher isn't "just a job" — and that makes them exceptional at what they do.
This article was originally published on