Photos Capture Exact Moment Dad-To-Be Finds Out His Wife Is Pregnant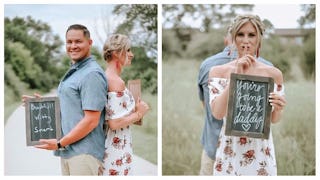 Image via Kara Quinn Photography
A surprise photo shoot made for one of the best pregnancy announcements of all time
Is there anything sweeter than seeing a parent-to-be find out they have a baby on the way?
We've seen dads surprised during photoshoots before, and their reactions are pretty priceless. When Chelsie Morales found out she was expecting her first baby with husband Will, she knew that was exactly how she wanted to let him know.
Chelsie teamed up with her high school classmate, photographer Kara Fishbaugh of Kara Quinn Photography. Together, they concocted the surprise at Standing Bear Lake near Omaha, Nebraska.
"The announcement was all Chelsie's idea," Fishbaugh told Scary Mommy. "Together, we orchestrated the entire shoot down to the minute she was able to reveal the news. Will thought they won a photo shoot and he was already SO excited about just that."
"He REALLY had no idea what he was in for. Like I said before, he thought they had won a photo shoot! I put together a fake email congratulating them on their win so he had no reason to think anything different!"
During the shoot, Fishbaugh asked both Chelsie and Will to write three things they love about each other on a small chalkboard. Will wrote, "beautiful, witty and smart." Chelsie wrote, "You're going to be a daddy."
With the camera snapping away, the exact moment Will read and comprehended Chelsie's words was caught on film. Grab the Kleenex for this one.
"His face was priceless!" Fishbaugh said. "When Chelsie turned her chalkboard around, it actually took him a long couple of seconds to actually realize what hers said. He was looking for three words that described him best, but what he read was 'You're going to be a daddy.'"
Cue the hugs and happy tears from both mom and dad.
"It was one of the best moments I have ever been a part of and I am so happy we were able to pull it off," Fishbaugh shared. "Chelsie held the news for a LONG four days from her husband, so you can imagine the excitement on the wife's end as well."
If there's anything more pure in the world than the look on Will's face, we've gotta see it.
This article was originally published on