Heartwarming Photo Of Country Singer In Hospice Proves A Family Bond Has Nothing To Do With Blood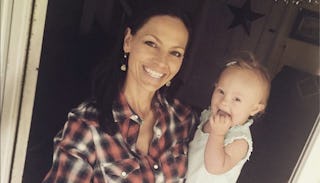 Last week, Joey Martin Feek of the country duo "Joey + Rory" was moved into hospice care after her cancer treatments failed and her pain became unmanageable. This week, the pair continue to update us on Joey's condition as well as the heartwarming ways she's spending her final weeks.
In a recent Facebook post shared by Joey's husband, Rory, she's seen being embraced not only by her 21-month-old daughter, Indiana, but also by her two stepdaughters, Heidi and Hopie. Writes Rory, "Our girls drove up here last night to spend more time with their mom and baby sister…"
Feek has been battling an aggressive strain of cervical cancer since 2014. Doctors initially thought they removed it all with surgery, but then the cancer returned. Her husband has been blogging and sharing regular updates as he and his family prepare to lose Joey. A few weeks ago, he even shared a moving post about Joey and her incredible bond with her stepdaughters, writing, "I don't think I've ever heard the girls tell anyone that Joey is their step-mom. But I have heard them tell people numerous times that she is their mother."
Joey herself hasn't said much to the media, but she recently opened up to The Tennessean about her illness and how she feels about it all. She says:
"I really thought we had it. I thought, 'I'm going to be that exception. I'm going to be that statistic that stands out and says, 'She fought it.' We did the most extreme surgery we can do in the gynecologic world, and she did well.' But for whatever reason, it wasn't enough, and God had different plans. I was disappointed. I was exhausted. More than anything, I felt like I failed at something."
Feek says she now sees it a different way: singing will be her legacy here on earth, but God "needs me singing up there." She's spending her days at her childhood home surrounded by family, friends, and loved ones. The other night, the official Joey + Rory tour bus brought a big group of Joey's dearest friends to be with her and say goodbye. Strapped to the bottom of the tour bus, a simple handmade coffin Joey asked one of their farmhands to build for her to be buried in.
Joey's story is moving for a number of reasons. She's a mom to three kids, she's a devoted wife, and she's an extraordinary and talented woman who's going through something unimaginable. Or, maybe it is imaginable, and maybe that's what makes you want to walk outside and shake your fists at the sky after reading about her — because it's just so unfair that this is happening.
One thing that's clear is Joey's stunning dedication to the people she loves. Her stepdaughters obviously love her fiercely, as do the many friends and people who've shown up to shower her with well-wishes and goodbyes. It just goes to show that family is so much more than blood. These photos and stories of Joey surrounded by people who adore her are what family really looks like. Joey's legacy will not only be her music, but also the circle of loved ones carrying her memory long after she leaves.