Bride And Groomzilla To Pay Photographer $1M After Trashing Her Online
by Julie Scagell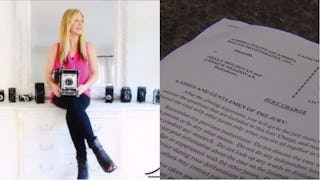 Image via Facebook/CBS DFW 11
A photographer's business was destroyed after a couple unfairly trashed her on social media
When one Dallas couple said their wedding photos were being "held hostage" by their photographer over a $125 fee, they tried, and succeeded, in ruining her reputation and eventually, her entire business. Their social media smear campaign started after they decided they didn't want to pay the fee they had agreed to — and didn't stop until they tanked their photographer's business.
Beauty blogger Neely Moldovan and now husband Andrew were married in Dallas in 2014. They hired photographer Andrea Polito to shoot the affair and all seemed to go off without a hitch. Then, according to the Washington Post, just three months after the ceremony, the Moldovans appeared in front of NBC affiliate KXAS showing off a box of empty picture frames. The couple stated that Polito was withholding their album until they paid an additional $150 for a cover.
The story was picked up all over the world, with places like the Daily Mail saying, "Wedding photographer holds couple's pictures hostage." What they failed to mention is all the couple needed to do was fill out a form, choose options for their wedding album and pay a small charge that was laid out in the contract they signed before their wedding.
Polito told the Washington Post "her studio, like many, withholds high-res images until the entire wedding package is completed, culminating in the delivery of a custom wedding album, usually months after the wedding." But when the bride learned she still had to pay for an album cover (which ended up being $125, not $150 like she told news outlets), she lost it. "She basically didn't read her paperwork or contract," Polito told the Washington Post. "She just couldn't understand why she couldn't have her high-res images. It's in bold in our contract."
But the couple didn't seem to care about what they'd agreed to and continued to bash Polito all over social media and in the news. "We are hoping that our story makes the news and completely ruins her business," Neely Moldovan said.
In an open letter about her ordeal, Polito explained her commitment to her clients and the 600+ weddings her studio had covered, saying, "Commitment is missing your own brother's wedding for the wedding of a couple you had already committed to photograph. It is having a miscarriage at 6 months on a Thursday, and persevering to show up at a wedding two days later because, regardless of what was going on in my life, this day was about someone else's happiness."
After this and countless other missed vacations, reunions, birthday parties, and holidays spent photographing her clients, to have something like this happen was not only emotionally devastating but financially catastrophic as well.
According to Polito's open letter, "thousands of people that I have never met and have never worked with have gone to great lengths on social media to disparage my name and my businesses." She was ridiculed and bullied online by the bride and groom themselves and a host of others following their story. They called Polito a cheater and scammer who steals money from clients. She had to temporarily shut her social media pages down, then eventually her entire business.
A small business owner and her employees lost everything they'd worked for over a $125 charge this couple agreed to pay in the first place.
With hundreds of thousands of dollars in lost business, Polito finally had enough and sued the Moldovans for defamation and lost wages. After years of waiting, her case was finally heard in court last week. Jurors took an afternoon to deliberate, finally agreeing that the Moldovans had, in fact, defamed and disparaged Polito and her studio, and conspired to do so and awarded Polito just over one million dollars.
So, what's next for Polito? She has a new website and says, "While I am still going to photograph weddings and portraits, I am going to be dedicating my time to helping photographers achieve their goals in business. Over the last year I have been carefully crafting an online education platform specifically for photographers. The courses, content and products will be tailored to help photogs achieve their aspirations in business."
This article was originally published on