You Need This Adorable 'Dad Bods And Dogs' Calendar In Your Life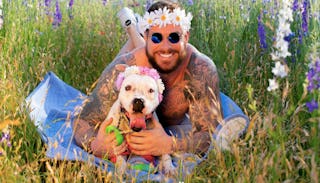 Image via Ricki Beason Rescue Photography
Proceeds from the calendar benefit three rescue shelters in Texas
We've all seen the dudeoir calendars popping up in recent years showing regular guys in hilarious poses, but a photographer in Texas may have just taken the calendar game to a whole new level by adding one more irresistible element — rescue pups.
Photographer Ricki Beason took her love of rescue dogs and created a new calendar for 2019 titled "Dad Bods and Dogs." The calendar features dudes with "dad bods" (though it looks like these dads have a lot of free time to spend at the gym) and posed them alongside available rescue dogs from three Dallas animal rescue organizations: The Love Pit, Rescue Row, and Astasia's Angels Animal Rescue.
"We want to epitomize the true bond between man and man's best friend," Beason says on her site. "This calendar was formally "Heartthrobs and Hound Dogs" which featured shirtless "hunky/buff" men but I wanted to move away from that and go at more of a humor approach with a bigger emphasis on the rescue dog."
The adorable and hilarious calendar shows dudes and dogs frolicking in fields, grabbing brunch, and having a spa day in bed. If you're anything like me, I need a visual calendar with written words to keep my family in order, not an electronic one. And if you're going to have a calendar hanging in your home, why wouldn't you want to be looking at hot dudes holding dogs on the daily?
According to Beason some of these pups have already been adopted but there are many that are still available if you're in the market for a furry friend.
Beason tells Scary Mommy she chose these particular rescues because she sees the work these rescues put in every day to make a difference for both the community and for the dogs. "For instance, I chose Astasia's Angels Animal Rescue and Rescue Row because they are smaller rescues and in more rural areas outside of the city. They don't get as much publicity as some of the other bigger rescues in town.
I chose The Love Pit because they are huge pitbull advocates and work hard every day to decrease the stigma against pitbulls and they take extra time to train all of their dogs before they are adopted out to make sure they are the best pets anyone could ask for."
"I want people to see rescue dogs for the fun-loving rascals that they are in hopes that more people will want to adopt these goofballs," Beason says. "The proceeds from this calendar will go directly to the 3 rescue beneficiaries so they can help to save the lives of more dogs from all over Texas."
Beason is overwhelmed by the love her calendar has received and says with all the negativity out there, "we all need a good laugh – something light-hearted to ease our spirits." Amen to that.
You can order the calendar on Beason's website now and all orders will be shipped in September.