Photographer Turns Kids Battling Illnesses Into Superheroes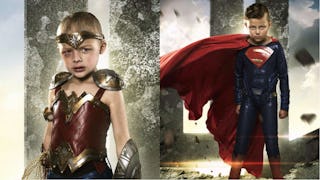 Image via Josh Rossi
Dad creates epic photoshoot for kids with disabilities and diseases
Last October, a Utah dad went viral for making a $1,500 costume so his 3-year-old daughter, Nellee, could be Wonder Woman in a badass birthday photoshoot. He's making magic again by capturing what he calls the "real superheroes" out there.
Josh Rossi transformed six kids with disabilities and illnesses into the members of the Justice League for an epic photoshoot. They posed as Batman, Aquaman, Wonder Woman, Superman, Cyborg and Flash. And while some of their medical issues may be seen as weaknesses, Rossi honored them as strengths.
Rossi says he pulled inspiration from his daughter's Wonder Woman shoot and the response he received. "I had a lot of people contact me telling me their child had cancer or some other disability and that they were the real superheroes," Rossi tells Scary Mommy. "After that I decided that I needed to find the REAL super heroes out there and do a photoshoot of them."
With the help of his wife, Roxana, they reached out to their network of friends and found kids that would be a good match. Brilliantly, they paired each child's illness to a specific superhero.
Costume designer Julie Whitley got in on the passion project and spent three weeks designing costumes for the kids (she donated them as well). According to Rossi, there were many all nighters and the full vision took about two months to complete.
"What I especially love about it is that we picked specific kids for each role," Rossi tells PEOPLE. "For example, if Superman gets near kryptonite, his heart gets weaker. Teagan Pettit, the boy we picked to play Superman, is waiting for a heart transplant and has half a heart. He was the perfect choice to play Superman."
Teagan, 9, was born with a condition called Hypoplastic Left Heart Syndrome, and he's had three open heart surgeries and will need more.
Many of these kids have been through absolute hell and experienced a kind of physical and emotional suffering that is brutal to imagine.
Simon Fullmer posed fittingly as Batman. He's only five years old and is diagnosed with a rare form of nerve cancer called Neuroblastoma, according to a blog post written by Rossi. Simon is a quirky, strong kid who "never complains" says his mom. He absolutely loves Batman and also Bruce Wayne, "because he is rich."
Sofie Loftus posed as Wonder Woman. She was diagnosed at 3 years old with a rare form of cancer called Embryonal Rhabdomyosarcoma.
"At one point, I had Nellee talk to Sofie because she was basically passing the Wonder Woman torch on to her," Rossi says. "As they said goodbye, Nellee crossed her arms just like Wonder Woman does, and Sofie did the same pose back. I almost broke down in tears, watching that."
Kayden Kinckle is a five-year-old using prosthetic legs, as he hasn't had his lower limbs most of his life. He was born with Omphalocele, which caused his internal organs to grow outside his navel.
"After seeing Kayden in person I couldn't believe how strong he was," Rossi says. "At a young age as he was learning how to walk with prosthetic legs he told his mom he wanted to do it by himself and didn't want any help. When I met him he was as tough as nails and I could feel how strong this little guy was inside."
Kayden's story is similar to the superhero Cyborg. Rossi explains that in Cyborg's younger years he was a healthy boy until he had an accident. His father kept him alive by giving him robotic parts.
Another member of the Justice League is two-year-old Mataese Manuma. He has a rare form of cancer called Acute Megakaryoblastic Leukemia.
"This little man is a powerhouse! The day of the photoshoot he woke up with a fever after just barely finishing a round of chemo," explains Rossi. "His parents brought him to the hospital and after a few days was able to do the photoshoot."
Ross says because Mataese is so young and weak from treatments his brother helped him out with the Aquaman poses. The character was a good fit for him because both are of Polynesian decent and being the God of Water requires lots of strength, which Mataese clearly has.
The last character in the league is Flash. Zaiden Stolrow, 8, has Attention Deficit Hyperactivity Disorder (ADHD) and boundless energy. He loves to run and it got him into a bit of trouble at school. Recently he was sent to the principal's office for running out of turn at a school event.
"His parents were called to come pick him up and when his dad opened the door he saw Zaiden in tears. All he wanted to do was run," Rossi explains. "Slowly Zaiden's friends stopped inviting him to events and birthday parties and his mom said she the 'light leave from his eyes.'"
Rossi says he turned Zaiden's weakness into a strength for Flash.
Of the whole experience, Rossi feels it was remarkable to witness the strength of these kids.
"Even though most of them had just come out of chemo and radiation treatments that same week they were happy and excited to do the shoot. They didn't complain and were getting into the poses I had for them. It was amazing being able to photograph these little strong people," he says.
Beyond these gorgeous photos, the bravery and determination of these kids is highlighted in a beautiful video on Rossi's Facebook page.
Their stories of challenges, bravery, and determination are enough to make you weep and smile at the same time. The perfect emotional juxtaposition, and really, the driving force behind Rossi' project.
"The message I would like to convey is that our weaknesses are what make us strong," Rossi says. "Also I want this to help other kids that are suffering to feel strong and inspire many others."
This article was originally published on