Teen Turns Little Brother Into Clown From 'IT' And It's Giving Us Nightmares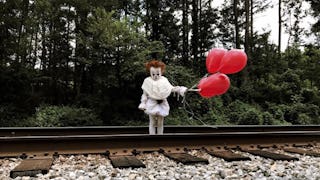 image via Twitter
The nightmarish clown gets a childish makeover in this chilling photos
This weekend, Stephen King's IT hits theaters for its big-screen treatment. If you don't know, the terrifying antagonist is a supernatural clown monster named Pennywise. And if you thought adult clowns were scary, brace yourself.
A teen photographer took some shots of his sweet little brother as the monstrous clown.
"I got bored," 17-year-old Eagan Tilghman says on an Instagram picture featuring his 3-year-old brother decked out as Stephen King's terrifying clown.
After browsing the teen's incredible photos on Facebook, Twitter and Instagram, boredom is the last emotion we're feeling.
Based on his Instagram page, it's clear Eagan's a big fan of the novel from which his inspiration sprang, and while he's chosen a different medium via which to express his creativity, we can see his talent is frighteningly impressive.
On Facebook, Eagan explains that he's not all about creepy and unsettling images, he's just creative, and he follows his muse.
Judging by the reaction these photos are getting, he's on the right track!
https://twitter.com/jetpack/status/903626550670761985
The photographer assures his followers that his little brother Louis is far less frightening in real-life, without "all the clown makeup and forehead modifications" and the side-by-side images he shared of his adorable sibling are more than adequate proof.
Eagan's photos have attracted a lot of attention, garnering thousands of likes on Instagram and being featured on multiple websites, even getting a front page spot in his local paper. But the talented photographer has a specific goal in mind.
No word yet on whether his Ellen-based dreams will come true, or if Pennywise's creator has caught wind of the photos. But just to be safe, Eagan also got his game little brother do dress as Tim Curry's Pennywise from the TV adaptation of IT that aired decades ago.
One thing's for sure, even if they don't get on TV, they've already got a prime spot in our nightmares.