Photographer Loses Client For Supporting Gay Marriage, Brilliance Ensues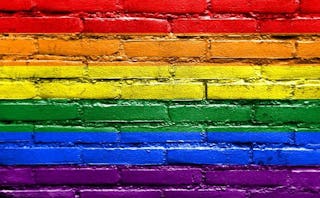 Brentwood Lee has been shooting weddings for 15 years — and traveling the world doing it. Last week, he did what many of us did to show his support for the Supreme Court ruling on gay marriage: used Facebook's rainbow filter for the profile picture for his company page. He also posted a meme with several couples, one same sex – kissing. It said, "All we see is love." One of his clients was not too pleased with his support of the ruling. This epic interaction took place:
"My fiancé and I support traditional marriage between a man and a woman and don't want our money going to places that support otherwise." Well, that's going to be tough, considering that it is now totally legal in every state to marry whoever you want. There are a lot of services that go along with weddings. Are they going to boycott every restaurant, baker, photographer, stationary store, florist, candy store, and tuxedo shop they can find that doesn't discriminate against same-sex couples? Have fun with that, people.
Unfortunately, the couple didn't read the fine print in the contract they signed with Lee, that states the retainers are not refundable. Too bad, so sad. Lee's reply to this couple is going viral today, because it's epic: "As far as your retainer goes, I hope you'll read the first article in the contract you signed stating that this retainer is non-refundable. But don't you worry, I'm not going to keep it! Because of this conversation, I have decided to donate your $1500 to GLAD, a group created to help and support gay rights."
Lee was nice enough to black out the names and faces of the couple who sent such a stupid, intolerant message. It's always a little surprising when people fiercely defend their bigotry. This couple probably hasn't learned a lesson from this, but it doesn't really matter. They're financially backing the cause they have so much contempt for, to the tune of $1500. I believe that's called "instant karma." Lee told Buzzfeed News, "I think it's important to show support for gay marriage because we are all human beings just wanting the same thing: someone to love us, and the same protection and rights under the law. Everyone deserves their 'happily ever after.'"
The original client sent him another message after they saw the post going viral. It said, "I find this annoying and distasteful. Would you please take it down? Make me sick just the thought of it." Lee sent another brilliant sorry/not sorry response: "you'll be happy to know that Facebook has plenty of settings that allow you to block or hide what offends you."
Let's join the internet in giving Lee a cyber standing ovation.
This article was originally published on