These 'Dudeoir' Photos Need To Come In Collectable Trading Cards
by Ashley Austrew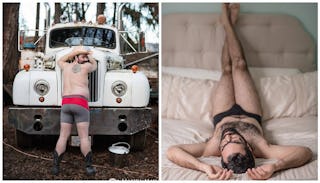 Photographer Masika Allan's hilarious "dudeoir" photos are going viral
Have you ever wondered what it'd look like if men took boudoir photos? Well, look no further because this Canadian photographer just gave us the hairiest, manliest "dudeoir" photos of all time.
Award-winning photographer Masika Allan recently shared the brilliant results of a dudeoir photoshoot she did with a family friend while he was doing some chores on his farm.
Dudeoir is exactly what it sounds like — men taking pin-up style boudoir photos — and it's become a viral sensation thanks to Allan's flawless and hilarious snaps. Allan tells Scary Mommy the farmer's photos are for an album the man wants to create as a present for his wife. She wasn't expecting the images to go viral, but already they've been shared more than 40,000 times, because seriously, who can resist this?
Lest you think dudeoir photos are all fun and games, Allan revealed on Facebook that it was eight degrees outside when she took that photo of the farmer dumping a bucket of water on himself. The poor guy had to do it three times before Allan got the shot she wanted. Don't even try to tell me he wasn't workin' it.
Believe it or not, this isn't the first time Allan's dudeoir photos have gone viral. Back in January, Allan shot photos for another close friend, Brendon Williams, and his images were shared more than 50,000 times in their first 24 hours online. Since then, requests for even more "dudeoir" photos have been rolling in.
The response to the dudeoir photos caught Allan by surprise, but she tells Scary Mommy she thinks the attention is great because "it's really showcasing the everyday male." The photos are about promoting the "real" men we know and love, and showing that men don't have to adhere to super masculine stereotypes to be sexy.
"In the advertising world, there are so many people fighting for female plus size models to be recognized more, yet nobody says anything about the fact that all male models have ripped abs and perfect faces," Allan tells Scary Mommy. "I think these photos show that's not what everyone wants and is definitely not the correct representation of a real man."
Dudeoir photos may be funny to look at, but they also have the added benefit of challenging the way we think about sexuality. They're the perfect blend of hilarious and raw, and really make you think about the ridiculous standards we set for both male and female bodies.
The men in these photos have great beards and an even better sense of humor, and at the end of the day, that's sexier than any underwear model ever could be.
This article was originally published on