Clear Drapes Let C-Section Moms Witness Their Baby Coming Into The World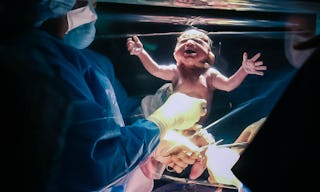 Image via Cherry Blossom Doula Services
These drapes make it possible for moms who have C-sections to witness birth
Photographer and certified labor doula, Alyssa Leon of Cherry Blossom Doula Services, is sharing some amazing birth photos of parents who are choosing clear plastic drapes to witness their C-sections firsthand. The clear plastic drape goes across the mom's mid-section, similar to the typical blue hospital drape used in C-section births, which separates mother and child. But the plastic offers parents and anyone else witnessing the birth of the child a view into their very first moments in this world.
She shared some of her birth photos on social media and told Scary Mommy without the continued requests from moms to have a say in how they experience the birth of their child, "everything will stay the same." She also understands this may not be for everyone. "Moms can choose to have it (or not!), that's the beauty of it. It's an option for moms that are having an uncomplicated cesarean."
Leon also believes that, "If this small measure can help connect women with their babies in the operating room, we are encouraging the bonding process to start in that moment which will directly affect the nursing relationship and postpartum recovery/transition. My goal is to continue to normalize the variations of birth through photos."
As someone who has had both a vaginal birth and C-section, there is a vast difference in experience between the two. Personally speaking, I felt a bit panicked not knowing what was going on behind the drape. I remember the doctor telling me they would be pulling my son out soon and I didn't even know the surgery had started. And though I'm not sure I'd want to see everything that a clear plastic drape would provide, it is refreshing to know women are being given a choice to experience their birth on their own terms.
According to the CDC, almost 32 percent of all deliveries are C-sections. And though the reasons for having the procedure can range fetal distress, obstructed labor, and a mother's health concerns, these often lifesaving surgeries are critically important to the overall safety of both mother and child. But one of the complaints of the procedure is the inability to see your child being born.
Because of this, more and more hospitals around the country are offering some form of gentle C-section, where the birth experience is more closely mirrored to a vaginal birth, and gives parents the opportunity to actually see the baby being born. In some gentle C-sections, clear plastic drapes are being used and in others, the drape is lowered completely close to delivery so parents can see their child's birth.
The use of these clear plastic drapes has been in practice since 2015, but if this is something an expectant mother is interested in, it's important to check with the hospital in advance of delivery to make sure they are available.
This article was originally published on