Photos Capture Dad's Emotional Response To Birth Of Rainbow Baby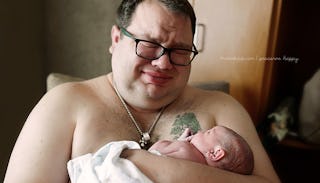 Image via Leilani Rogers
Photographer Leilani Rogers' birth photos show impact of miscarriage and rainbow babies on dads
Every birth is special, but there are some that really tug at the heart strings. For Hunter and Hope Madden, the recent birth of their daughter was even sweeter and more miraculous because of the heartbreaking and challenging road it took to get there.
For years, the couple struggled with infertility and miscarriages, including two early miscarriages and a later miscarriage when a sonogram revealed that their son, Owen, didn't have a heartbeat. These prior miscarriages make their daughter, Evelyn, a "rainbow baby." Rainbow babies are those born after a pregnancy loss.
The couple's birth story, with its wide range of emotions, was captured by Austin, Texas Birth Photographer Leilani Rogers — an award-winning photographer who has photographed a wide range of birth experiences.
"I have loved getting to know the Madden family," she tells Scary Mommy. "They worked long and hard to get her here, and worried right up until she was in their arms. You can see the relief and joy so clearly in these photos."
When the couple learned Hope was pregnant with Evelyn, there was still a great deal of trepidation because of their previous losses and low levels of progesterone and the pregnancy hormone HGC.
"We were very much prepared for the worst," Hope tells Scary Mommy. "And I think my entire pregnancy kind of felt that way. We kept just waiting for the floor to fall out from underneath us every second."
After all the waiting and a labor that lasted nearly 40 hours, they were more than ready to be parents. Hope described the birth of Evelyn as "surreal" and "surprisingly emotional," saying that several times during labor she became upset over the loss of Owen.
Not only are the photos touching, raw and relatable, but they also show a side of infertility, miscarriage and rainbow babies that isn't always addressed — the emotional toll on fathers. For Hunter, the birth experience was filled with anticipation and longing for their daughter, while also being worried about his wife.
"I could not believe that I was allowed to hold something so perfect and I was overwhelmed with thanksgiving for finally getting to be a father," he tells us. "It is something I have always dreamed of being and I can honestly say that it is the most amazing thing I have ever done."
In one of the more poignant photos, Hunter holds Evelyn against his bare chest. Her tiny face rests against a tattoo on his chest meant to memorialize his son. Rogers shared some of the images on her Facebook page, and the story has been capturing the hearts of parents everywhere. Of the image with Evelyn resting her head against Hunter's tattoo, Rogers calls it a "reminder of triumph."
"You can see the relief and joy so clearly in these photos," Rogers says. "It is particularly special to document a dad's raw and genuine reaction. We often forget that birth is not just about mom and baby; it is about family."
The mood in the delivery room was calm and peaceful, according to Rogers, but once the baby arrived, it was like one big happy party. "Family members came in a few at a time with hugs for all – including me," she says.
Rogers shares that Hunter and Hope are amazing parents with a lot of love for each other and of course, baby Evelyn. The couple also credits their extended family for the support they have shown them and the love they have already showered on their daughter.
"The journey through infertility and miscarriage is so hard no matter where your journey takes you," Hope says. "Finding support wherever we could really is what made so much of a difference for us during our journey. Our friends, family, church and our faith in God really are what kept us going throughout this entire process."
In addition to finding support in unlikely places, the couple says their experiences with infertility, miscarriage, and the eventual birth of Evelyn ultimately brought them closer.
"All the birth stories I capture are precious to me," Rogers says. "But it makes it that much more special to tell a story of triumph, like this one."
This article was originally published on