Chilling Photos Of Animals Escaping The California Wildfires Will Leave You Breathless
by Julie Scagell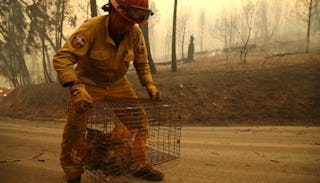 Image via Justin Sullivan/Getty Images
The devastation for families and animals in California is unfathomable
Three major wildfires have been burning in California, forcing hundreds of thousands of people to leave their homes and all of their possessions in search of safety. With 23 now confirmed dead and rescuers beginning to go back into devastated areas today, many are also left wondering whether their animals survived the devastation.
These mass evacuations, some with only hours notice, meant pet owners, farm animals, and wildlife also had to scramble to get their fur babies to shelter. There have been dramatic pictures coming out of the fires, and these images will leave you both heartbroken and thankful so many were able to be rescued.
So far, 70,000 acres have been destroyed, along with hundreds of homes in Los Angeles and Ventura counties. Luckily, there were also many "mobilizing the local animal rescue community, as volunteers scrambled to find shelter for thousands of small pets and large animals alike," NBC Los Angeles reports.
There were multiple locations listed where people could bring animals to be kept in shelters until displaced families could return for them.
The community was also encouraging people who were able to go to their closest animal care center and adopt animals so there would be space made for those animals given to evacuation centers, as well as donate to local shelters, both with funds and pet supplies, cans of unopened food, and blankets.
And while there is plenty of groups stepping in to help, individuals are also stepping up to help save injured animals, like this little fellow who ended up getting the medical attention it needed.
I cannot imagine the feeling of leaving your home and everything you own to flee for your life. But, to also have to give up your pets and pray they are being cared for until you can see them again would be devastating.
Our fur babies are a part of our families, and to have to leave them would be heartbreaking.
Luckily, there are so many good people out there willing to help. Rescuers, shelter workers, neighbors, and strangers are all stepping up to help displaced families and their pets find a safe place to stay until these fires are contained.
You can donate to The Humane Society of Ventura County, as they are accepting animals evacuating from the Hill and Woolsey fires. You can donate to the organization here or purchase needed items through their Amazon Wish List here. Locals can also apply to volunteer to help evacuate animals in the future. The Los Angeles County Animal Care Foundation, which will support various shelters' relief efforts.
This article was originally published on