These Photos Show Just How Much Harry And Meghan Adore Each Other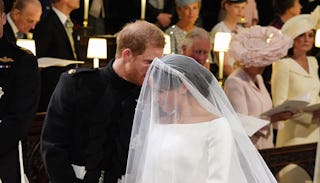 Meghan Markle and Prince Harry finally got married and the photos will melt your heart
Are you a little bit of a skeptic about the whole royal wedding thing? Do you not really get the huge amount of excitement over this one day? Well, then I implore you to look at pictures of Meghan Markle and Prince Harry tying the knot. It will make your cold, skeptical heart feel so, so many things.
Let's start at the altar. Can all of our partners forever look at us the way that Meghan looks at Harry? Please and thank you.
Officially swooning right now.
One more for good measure.
Oh yeah, and at some point Harry told Meghan that she looked "amazing" and she blushed and giggled. We are officially puddles.
It is literally a movie. A beautiful, beautiful movie. Also, not that you're exactly thinking about fashion right now — but Markle's tiara is looking like something else. It's a Queen Mary's diamond bandeau tiara lent to her by Queen Elizabeth II, per E! Online. And of course, she pulls it off flawlessly.
Then, they descended to the steps for pictures and kissing and lots of general cuteness.
Our hearts.
GAH we can't stop looking.
Apologies for interrupting our regularly scheduled programing, but there was another set of cuties on the steps with them. Princess Charlotte is loving all the fanfare. Prince George feels lukewarm about the whole thing.
Seriously, though, Charlotte posing > pretty much everything in the world.
Back to the lovebirds.
Their sweet loving nuzzles are literally slaying us.
After much adorableness, they got into a horse drawn carriage (yup, this is actually real life and not a Disney movie).
Despite the fact that there were literally thousands and thousands of strangers surrounding them, the couple looked incredibly calm and graceful.
Also, the posing is on point.
*Sigh.* I kinda miss them already.
Here's to getting to experience quite possibly the dreamiest wedding ever, firsthand. Our hearts will probably never fully recover.
This article was originally published on