Amazing Photos Show What It's Like To Watch Your Child Being Born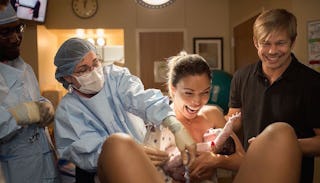 Stunning photos capture a mom watching her baby being born via surrogate
Birth photos are always gorgeous and empowering, but a recent set shows a beautiful labor and delivery scene we rarely get to see: a joyful mother welcoming her son into the world via a surrogate mom.
Texas photographer Leilani Rogers recently shared a stunning photo series on Facebook that shows mom Kim Overton watching in tears as her son, Oliver, is born. Overton's son was carried by her cousin's daughter, Cydnee, who volunteered to act as a surrogate after hearing about Kim's struggles to conceive due to fibroid tumors.
In an emotional post on her blog, Overton explains that she was diagnosed with fibroid tumors in 2005, when she was just 34 years old. Doctors advised her to start her family sooner rather than later, so around her 35th birthday, she had eleven fibroids removed from the walls of her uterus and began trying for a baby as a "solo starter" — someone who chooses to have a child on their own without a significant other.
Overton welcomed a son at age 39 and tried to get pregnant again a few years later, but after several false alarms, her chances of conceiving weren't looking good. That's when she began to consider surrogacy, and suddenly everything fell into place. Overton writes:
"When I was having an emotional conversation with my cousin about my infertility experience, I told her that I simply needed a new uterus! We both laughed… But then we started talking about my cousin's beautiful twenty-six year old daughter, Cydnee, who was a mother to two little girls. I don't know exactly what my cousin said to her daughter after our conversation, but later that night, Cydnee, like an angel, called me and said she would be more than happy to help. She would be my surrogate."
After two unsuccessful attempts to transfer Overton's embryos and a devastating pregnancy loss, Cydnee was confirmed pregnant last July and gave birth in March. Overton was there to welcome her son, and so was her husband, whom she met and married during the three-year surrogacy process. The birth photos captured by their photographer are some of the most moving, joyous, and beautiful images I've ever seen.
Every birth is a miracle, but for people like Overton who've struggled for so long to have a baby, the happiness and relief of finally holding that child is unlike anything else. In this case, the emotions are written all over Kim's face, and they're a stunning reminder that there a million ways to become a parent, but no matter what, the love and wonder we feel upon meeting our kids for the first time is the same.
This article was originally published on