These Pickle Gift Sets Are Perfect For Your Pickle Obsessed Friend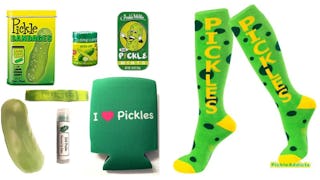 Image via Walmart
Your pickle-obsessed friend will go nuts over these very cute gifts
It's always a long, exhausting process picking out holiday presents for your friends and family (when did everyone get so picky?) Thankfully, there are a few surefire hacks. Namely, if any of your loved ones are big fans of pickles, things are about to get much, much easier. Walmart's selling a whole bunch of pickle-themed gift sets, and they're actually extremely cute.
Okay, we know what you're thinking. Is it a very risky move to buy gifts entirely dedicated to a sour cucumber? We hear your concern, but please just take a look at this Deluxe Pickle Lovers Gift Pack. The set includes: pickle bandages, pick lip balm, pickle mints, and a pickle stress toy. I don't even like pickles and I want all of this.
Not sure that you want to go too overboard with the cucumber gifting? Snag these individual pickle koozies for your bud so they can put their love of all things dill on display. Yes, the rest of your friend group might poke fun. Jealousy will get them nowhere.
For truly diehard pickle fans – go with these socks. Yes, they're extremely green. But they'll display your friend's love of pickles (really) loudly and proudly.
Now, let's get to the edible stuff. Pickles are good and all…but pickle candy? Yes please. This gift set comes complete with lollipops, barrel candy, and mints. Your friend will die and go to heaven several times (and hopefully will share the loot with the rest of the group).
Want to take your gift-giving skills to a whole other level? This kit contains the aforementioned pickle lip balm, mints, and bandages. It ALSO has pickle soap which, according to the manufacturer, is "a delightful soap infused with the sweet perfume of DILL PICKLES…a long soak in the tub with this Pickle Soap will have you feeling as fresh as a dill pickle!"
We could all stand to feel as fresh as a dill pickle at this point.
Hopefully your friend will appreciate all of her cute, pickled gifts (and might be generous enough to toss you a lollipop or two).
We are a participant in the Walmart.com Affiliate Program and may earn fees by linking to Walmart.com and affiliated sites.
This article was originally published on