Pillsbury Just Released Hot Cocoa Rolls  -- And They Have Marshmallow Icing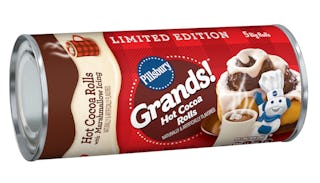 Image via Pillsbury
Pillsbury Hot Cocoa Rolls are here to make your holiday breakfasts next-level
Halloween is long over and now that your sweet tooth has had a quick break, it's time to move on to all the holiday desserts we plan to gobble up this Thanksgiving (see what we did there?) and Christmas. That's why Pillsbury's timing with releasing their ooey-gooey Hot Cocoa Rolls couldn't possibly be better.
We don't want to alarm anyone, but they have MARSHMALLOW ICING.
It's totally the time of year to enjoy all things hot cocoa-flavored, so this is a welcome surprise. The leaves are just about off the trees, it's getting pretty nippy out in most parts of the country, and the holidays are approaching. Build a fire, throw on some sweats, and toss these sticky chocolate treats in the oven. Done, done, and done.
According to Pillsbury, each container has five rolls, is swirled with a cocoa filling, and yes, that sweet, sweet marshmallow icing. Can they just sell that in its own can please? We'll take a dozen.
Food blog Junk Banter gives us a little hint of what we're in store for once we crack open that can. "Marshmallow icing is provided in great quantity, and it's killer. The taste isn't that of Swiss Miss mini marshmallows – the kind you're likely to put in your hot chocolate. No, no, Pillsbury summoned something more magical for this cup of cocoa. The icing tastes wonderfully of Lucky Charms marshmallows."
Um, yes please.
It looks like hot cocoa is simply on-trend this holiday season with hot cocoa M&M's and hot cocoa Hershey's kisses tempting us right the heck out of our diets.
Now that we know all our hot cocoa options, time to hit the store and stock up. That way when the serious snow hits, all you need to do is go to your pantry and pick your chocolatey poison.
This article was originally published on